The past glory of Bollywood, when films spoke of issues of the common man, is fast fading in the lust for money and power for comfortable venture on political opportunism
By Geeta Singh
Bharatiya Chitra Sadhna is a film festival that the Sangh has started to showcase Indianness (Bhartiyata)
Amazon has just removed 23 out of 30 Nazi propaganda films for sale on Amazon online
Many production houses in Bollywood want to sail their boats on the saffron waves and make films
Major Bollywood stars have shed all facades and are out to make saffron money
'KASHMIR FILES' has created umpteen cacophonic buzz for various reasons everywhere in the country. Be it on social media, in political circles, the film industry or even in our homes. This film is based on the exodus of Kashmiri Pandits from the Kashmir valley during the 90s. Since the day it was released (11th March) it has created a frenzy. A day after its release a picture of Vivek Agnihotri with Prime Minister Narendra Modi went viral on Twitter and on March 15, during the BJP Parliamentary Party meeting in Delhi, PM Modi advised MPs and politicians to watch 'Kashmir Files'. While praising the film, he said that more such films should be made to 'bring the truth' in front of the country.
All these reactions brought an unfaltering approach towards the film's promotion and the movie got state support and gained blessings from the central government as well as several leaders from the ruling Bharatiya Janata Party. Thanks to such an instrumental and influential promotion, the movie was declared tax free in eight BJP ruled states (Haryana, Madhya Pradesh, Karnataka, Uttar Pradesh, Uttarakhand, Tripura, Goa and Gujarat) and a single Union Territory – Chandigarh. Initially, the film was released with 630 screens, but promotion and word-of-mouth helped it in gaining more shows across the country. 'Kashmir Files', directed by Vivek Agnihotri and Produced by his wife and actor Pallavi Joshi, has garnered 200 crores to date.
Vivek Agnihotri claims that he is inspired by Hollywood to make films that praise the country and present its greatness to the world. And he believes that cinema being a 'soft power' can help India expand its diplomatic reach. This is the second film of his planned "Files trilogy". The first was 'The Tashkent Files – Who Killed Shastri?' released in 2019. It was based on the death of the former Prime Minister of India, Lal Bahadur Shastri.
Although the film got a lukewarm response in theatres, it received two National Awards. 'Kashmir Files' is the second one and next is 'Delhi Files', which will narrate the horrific story of the 1984 Delhi Riots. Before this he made 'Urban Naxals: The Making of Buddha in a Traffic Jam' in 2018. It was based on individuals in academia and media who were allegedly colluding with Naxalites in a bid to overthrow the Indian government. On a personal front, Vivek Agnihotri is very much active on social media for his rightist views. He is also a cultural representative at the Indian Council for Cultural Relations (ICCR) and a member of the board of India's Central Board of Film Certification for the last two years.
It is ironic that at that time another film, 'Jhund' which is also talking about the disparity between caste and economic disparity, was flopped. Jhund was released theatrically on March 4 and featured Bachchan as Vijay Barse, a Nagpur-based retired sports teacher who pioneered a slum soccer movement. This film could also be tax-free. On Facebook Savita Raj Hiremath, one of the producers of 'Jhund' posted her honest opinion.
She wrote that while "The 'Kashmir Files' is an important film, 'Jhund' was no less. I recently watched 'Kashmir Files' and as the story of Kashmiri Pandits exodus, it's heartbreaking and is a story that needed to be told. It is a good voice for Kashmiri Pandits! But as the producer of 'Jhund', I am perplexed. After all, 'Jhund', is also an important film and has a story and a big message. So, I want to find out what's the criterion on which the government selects a film to support it so strongly by making it tax-free. And endorsing it through social media and asking offices to showcase the film or give a half-day holiday to its employees.
Cinema As a Propaganda
Cinema is a mirror of society and it emerges as an inevitable and vital medium to showcase the artist's ideology through his films and individual opinions. And along with it, politics and society are two sides of the same coin, in such a situation allegations and counter-allegations happen. And there is no doubt that the work of means to political interests through films has been made for a long time. So in the current epoch, our young generation will witness propaganda films made to settle political equations. And intellectual change can be brought by it too. At the same time, the film is a powerful medium, which can be developed through better social values, and it can transfuse values in today's younger generation. Therefore, the saffron ideology is slowly moving forward in this direction. The actor of the movie Anupam Kher accepted in a press meet that the release of 'Kashmir Files' was possible because there is a BJP government in power.
Here I am not reviewing or criticising any person or film but want to throw light on the current trend of filmmaking in Bollywood.
Since the 1990s, the Indian state has woken up to the potential of Bollywood as a cultural commodity. Mainstream cinema gradually became a popular template to peddle the state's neo-liberal agenda. During the reign of Congress many such films were made on Gujarat riots like 'Firaaq', 'Final Solution' and Bombay-blast drama 'Black Friday'. Now, the tables have turned.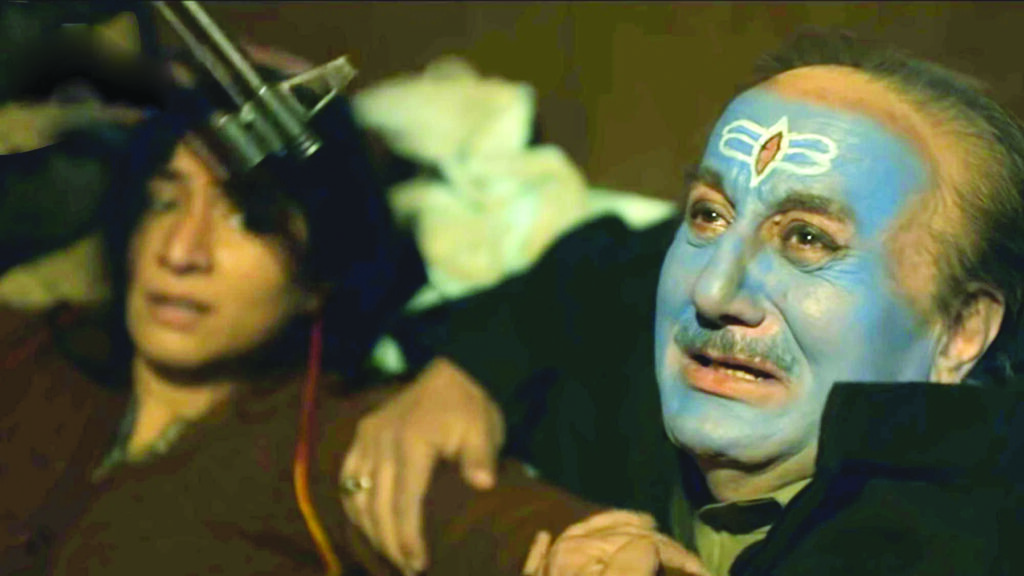 Cinema is a mirror of society and it emerges as an inevitable and vital medium to showcase the artist's ideology through his films and individual opinions
After 'Kashmir Files', more such films are coming. Vivek Agnihotri is making 'Delhi Files'. Filmmaker Vipul Amrutlal Shah is ready with the script of 'The Kerala Story'. Director Sudipto Sen will direct this film, which narrates a horrifying tale of women trafficking from God's own country – Kerala. It is about the ongoing systematic kidnapping and trafficking of thousands of young women from Kerala to ISIS and other war-stricken zones of the world. Mahesh Manjrekar is directing the biopic of Vinayak Damodar Savarkar. In the film, 'Swatantra Veer Savarkar' actor Randeep Hooda will play the role of Veer Savarkar. AS per reports, the shooting of this biopic will start in June 2022. Producer Sandeep Singh said, "the film will be shot in London, Maharashtra and Andaman and Nicobar. In the movie, different phases of the country's freedom struggle will be shown." With a film on the life of Nathuram Godse, 'Maine Gandhi Ko Kyun Mara' controversy is already going on in Maharashtra. Notably, the film features Nationalist Congress Party (NCP) MP Amol Kolhe in the role of Nathuram Godse, which also sparked friction among the state's ruling Maha Vikas Aghadi allies Shiv Sena, NCP, and Congress.
In the film 'The Accidental Prime Minister' Ex-PM Manmohan Singh has been shown as a puppet of the Congress high command Sonia Gandhi. It was based on a book by Sanjaya Baru, who was the media advisor to Manmohan Singh. In the year 2019, just before the Lok Sabha elections, many films on the life of Prime Minister Narendra Modi were made. The promotion of his biopic film 'PM Narendra Modi' was also done vigorously but due to elections, it could not be released. After the election, when the results were announced, the film was released in theatres. Vivek Oberoi played the role of Narendra Modi in the film. Many filmmakers have made films on the Emergency and put a critical eye on Congress rule especially under Indira Gandhi in the last four years. Movies like KK Menon's 'San Pachattar', Madhur Bhandarkar's 'Indu Sarkar', Rajkumar Gupta's 'Raid' and Akshay Kumar and Lara Dutta's film 'Bell Bottom' and Kangan Ranaut's upcoming film on Emergency are some of the examples.
Rightist Ideology
For the last couple of years, rightist views are dominant in Bollywood and the demarcated line is visible through saffron ideology. However, one cannot deny the fact that through recent propaganda films, non-BJP governments especially Congress, which is an opposition party on a national level, have been portrayed destructively and negatively. The current trend of showing political truth through cinema is undoubtedly perturbed and complicated. As these films are well-intentioned and they go to what extent in imparting certain lessons to the viewers, which can be dangerous psychologically to emotional brains. One can sense it easily after watching 'Kashmir Files'.
However, this Trend is not new. Propaganda movies were made in Bollywood earlier too by left ideology driven filmmakers. But now the table is turned. Rightist thinking is continuously encouraging because film can play with the emotion of pre-radicalised society. During elections through these cinematic approaches efforts have been intensified to woo the voters through capturing their minds and hearts. To divert from the current issues, such films are made so that people's attention can be distracted. And they are the best way of publicity too.
'Namaste Sada Vatsale Matribhume' prayer of Rashtriya Swayamsevak Sangh (RSS) became public in 2018 on YouTube as a trailer of a mega-budget saffron film – 'Bhagwa'. This was a major break from the past 93 years when the RSS' Prayer became visible publicly via social media. The RSS will celebrate its centenary in 2025 and showcase its history, ideology and achievements. The saffron organisation is making a feature film on RSS with a whopping budget of Rs 200 crores. The film will be produced under the SSAN Films banner and directed by AR Sarkar. Many celebrities have shown interest in it and it is believed that Akshay Kumar will play the role of the protagonist. Media baron Subhash Chandra, who is also MP in Rajya Sabha, and Motion Pictures head Raj Singh will promote and distribute this ambitious film. Noted writer Koduri Viswa Vijayendra Prasad, the father of SS Rajamouli, the celebrated director of the 'Baahubali' series, who wrote that story, and also Bollywood's superstar Salman Khan's film 'Bajrangi Bhaijaan', has penned the script. As per sources, the vital inputs in the script have been given by RSS chief Mohan Bhagwat himself along with S Gurumurthy.
The film 'Bhagwa' will showcase the history of RSS and its achievements through the struggles of its leaders, including Dr Keshav Baliram Hedgewar and MS Golwalkar. It is believed that to finance the film, Kannada Cine audio tycoon Lahari Velu Thulasi Naidu, who came up with the idea of the film, and his younger brother Manohar Naidu will produce it. Naidu is also a member of the saffron wing of the RSS, the Bharatiya Janata Party (BJP).
This is not the only example where BJP and RSS will put forward their beliefs and thoughts through the strong medium of the silver screen. The Sangh wants to push its political beliefs to percolate speedily in Indian society. So fiery dialogues and a strong script are the best platforms to take that forward. Earlier, the Sangh used to give its comments on contemporary cinema but now it is foraying into it. Not only Bollywood, but RSS is also spreading its wings to the theatre, regional cinema and film festivals. In 2018 in Kerala, BJP protested against the regional certification office for not providing a certificate to documentary film – '21 Months of Hell'. Made in Malayalam, with a runtime of 78 minutes explores the ingenious torture method administered by the Police for intimidating political prisoners at that time. With the real-life accounts of surviving victims of the torture, the documentary also features reenactments of the torture methods of the Emergency.
Bharatiya Chitra Sadhna is a film festival that the Sangh has started to showcase Bhartiyata (Indianness). With this festival, the Sangh wants to spread its cultural values. As an experiment, two such festivals have been held in Indore and Delhi. The festival had four categories: short films, campus films, animation and documentaries. And the themes were nationalism, women, folk art, environment, Indian family system, Indian cultural values, and so forth. RSS promoted the biopic 'Ek Thi Rani Aisi Bhi', directed by Gul Bahar Singh starring Hema Malini, who portrayed Vijaya Raje Scindia, from the erstwhile royal family of Scindias. To showcase the achievements of BJP, Suresh Jha produced the feature film 'Modi Kaka Ka Gaon'. In the film, Vikas Mahante played the role of the protagonist who transforms India through his policy decisions, including demonetisation.
Feel-Good Films
The successful film of Varun Dhawan and Anushka Sharma, 'Sui Dhaaga', was another example. Released just before Gandhi Jayanti, it became the model of the Modi government's aspiring project Make in India. Before the promotion of 'Sui Dhaaga' at first glance, it was a bolt from the blue for everyone about its name. Neither the name has created any curiosity nor has it any glamour quotient to pull the urban audience. Therefore, why did a pure professional banner like Yash Raj need to make a film with such a name and a social message? When did this production house start doing such risky jobs? Is the situation commercially ripe? Indeed, yes, as this movie is based on Prime Minister Modi's 'Make in India' slogan, in which issues like skill development are raised.
Hence, it was released just before Gandhi Jayanti, because the true inspiration behind the Make in India is the father of the nation, Mahatma Gandhi. This is not a documentary, but a pure feature film, which was released like other films.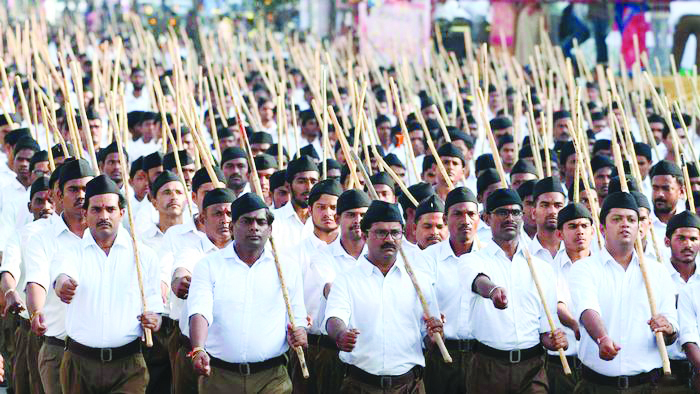 The film 'Bhagwa' will showcase the history of RSS and its achievements through the struggles of its leaders, including Dr Keshav Baliram Hedgewar and MS Golwalkar
Like Yash Raj Films, now, many production houses want to sail their boats on the saffron waves and make films that will please rightist ideology. Before 'Sui Dhaaga', Akshay Kumar's 'Gold', Tigmanshu Dhulia's 'Raag Desh' and Rakeysh Omprakash Mehra's 'Mere Pyare Prime Minister'. Actor turned producer John Abraham has made several such films like 'Parmanu-The Story of Pokhran', 'Satyamev Jayate' series and 'Batla House' that suit the present government's taste. During the promotion of 'Parmanu', John said, "I have never been in a hurry to produce films, I have been reading and searching for subjects that are disruptive yet engaging, stories that must resonate with the current social, political and economic mood of the country, and finding stories that reflect this takes time. This film fits perfectly with my pursuit."
Farhan Akhtar, who used to put out rebellious thoughts through his Twitter handle earlier, has changed track for business. He came together with Akshay Kumar and produced the Rs 100 crore mega-budget film 'Gold'. Produced by Excel Entertainment and directed by Reema Kagti, in the film, actor Akshay Kumar portrayed the flag-waving Bengali team manager of a novice hockey team.
Although the story of 'Gold' is fictional, it took snippets from the inspirational life of pre-independence sports star Kishan Lal from Madhya Pradesh. Excel Entertainment co-producer and director Reema Kagti stated in an interview that it is a fictional take on what happened. Also, it is not just the golden victory in 1948 we will be looking at, but it encompasses 12 crucial years in India's history. 'Gold' was inspired by Kishan Lal who used to play hockey. He was regarded as the greatest right winger in the history of Indian hockey who played with another great player Dhyan Chand. Kishan Lal was considered an influential contributor in developing the powerful Indian Railways hockey team. But the place and circumstances are changed in the film from central India to Eastern India i.e. Kolkata. Akshay Kumar who has come into a new avatar of Bharat Kumar has done 'Toilet Ek Prem Katha' which promotes PM Modi's cleanliness campaign, Swachh Bharat Abhiyaan, along with other films that promote nationalism.
Patriotic Films
To please Sangh ideology big banners and known faces come up with historical stories. Akshay Kumar has done a maximum number of films based on either biographical or period genres. His upcoming film is a mega-budget on the life of Prithviraj Chauhan. Before that, he played the historical character of Havaldar Ishar Singh of 36 Sikh Regiment, who fought against Afghans in Saragarhi in the movie 'Kesari'. Karan Johar and his production studio Dharma Production joined up for this period film.
On the same subject, Raj Kumar Santoshi made the Battle of Saragarhi in which Randeep Hooda played the character of Havaldar Ishar Singh. This historic battle will take you 120 years back. Both films tell the story of the war fought on September 12, 1897, where 21 Sikh soldiers fought until the death of 10,000 Afghan army soldiers. Kangana Ranaut played Rani Laxmibai in 'Manikarnika'. Ajay Devgn acted and produced 'Taanaji: The Unsung Warrior', the historical saga of Maratha warrior Taanaji Malusare. Excel Entertainment produced Telugu film 'Sye Raa Narasimha Reddy' starring Chiranjeevi and Amitabh Bachchan. Ashutosh Gowariker, who previously made the historical mess 'Mohenjo Daro', made another historic battle movie 'Panipat', with Sanjay Dutt and Arjun Kapoor.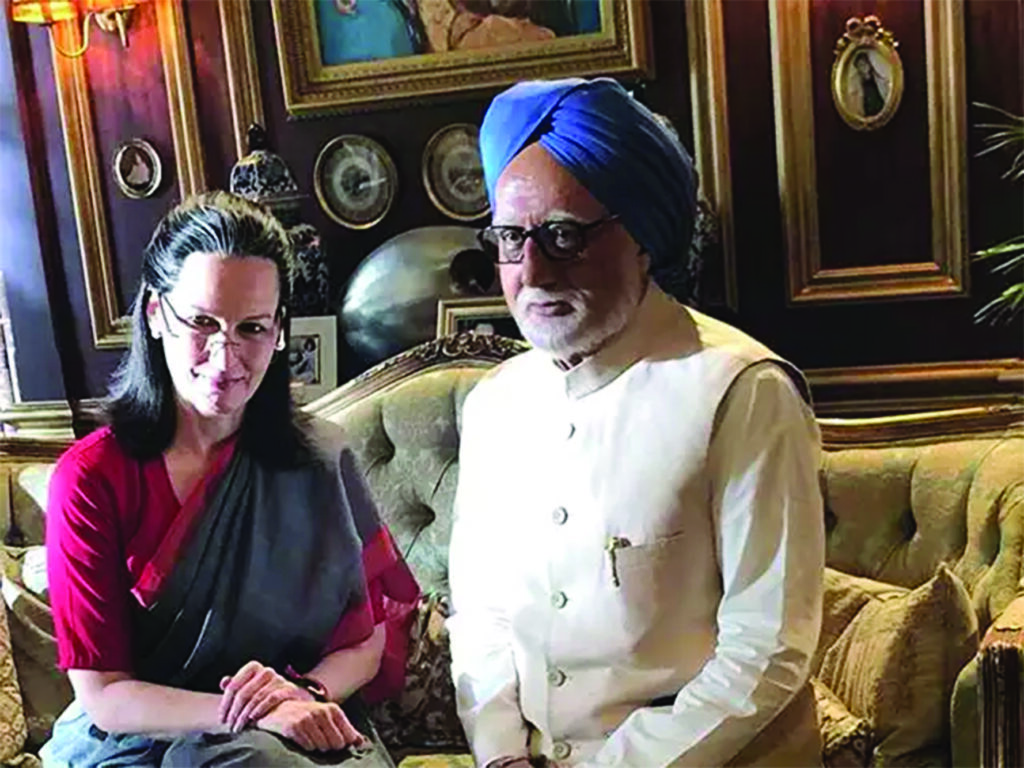 In the film 'The Accidental Prime Minister' Ex-PM Manmohan Singh has been shown as a puppet of the Congress high command Sonia Gandhi. It is based on a book by Sanjaya Baru, who was the media advisor to Manmohan Singh
The film flopped. 'Rashtraputra' is a film based on Chandrasekhar Azad. The film will narrate the important events of Azad's life. But as per sources, in the movie, Azad may be portrayed as a staunch opponent of Mahatma Gandhi. Ajay Devgn will play the role of Chanakya in another period film 'Chanakya', directed by Neeraj Pandey, who has films like 'A Wednesday' and 'Baby' in his kitty as a director.
History
If we look into the history of propaganda in cinema we find that the Russian Revolution of 1917 had created a political environment that pushed the role of propaganda in cinema. Since then propaganda films have been made worldwide and are still being made. Recently, Amazon has just removed 23 out of 30 Nazi propaganda films that were either for sale in Amazon's online portal or available for streaming on its Amazon Prime video network following a protest headed by the Simon Wiesenthal Center. China and Russia are the latest examples of producing government-controlled films. Last year's Chinese state-backed propaganda movie 'The Battle at Lake Changjin' based on the defeat of US troops became China's highest-grossing movie of all time.
Over time, Bollywood producers who abandoned the ideological movement and moved forward to commercialisation with romantic and action stories, are now changing their attitude with the BJP in power. Many experts feel it is a good phase for those stories that incline towards a saffron ideology, which normally went unnoticed earlier. Hence, in the present period, movies will attract your attention not only because of their name, but also the story, the themes, the atmosphere and the message.
---