The 97-year-old Hindu outfit Rashtriya Swayamsevak Sangh has updated itself with time to become contextual. Now, it is also reaching out to the youth through social media platforms like Facebook, Instagram, Quora and Twitter. It now has more than 5.4 million followers on Facebook and any query or message on this platform is replied to within a day
By Tridib Raman
Shakhas are RSS fountainhead's smallest units and the backbone of the organization
Sangh has either no or very limited activities in Mizoram, Nagaland, Kashmir and Lakshadweep
In Tamil Nadu, sangh's popularity grew rapidly between 2010 and 2020
The 'Join rss' link on its official website has become an important tool to invite youth
ARE the Rashtriya Swayamsevak Sangh (RSS) backed frontal organisations dissatisfied with the current ruling party, which they brought to power eight years ago? There may not be an official word on the dissatisfaction, but RSS was expected to discuss such questions for answers in the recently held meeting but the landslide victory of BJP in the assembly elections has changed this scenario. And it is believed that the RSS has, at length, discussed the plans and feedback on the working of the government.
Before the annual meeting of its highest decision-making body, the RSS had made it clear that it has a difference of opinion on the legislation proposed by the government on the age of marriage for women and believes such issues should be left to society to decide. It also believes that the hijab controversy has been blown out of proportion and should have been handled at the local level. These two issues, along with other contemporary issues were discussed during the Akhil Bharatiya Pratinidhi Sabha baithak (ABPS) at Karnavati (Ahmedabad). This year's meeting, which was held between 11-13 March, discussed various issues, including the expansion of the organisation's base.
Decisive Core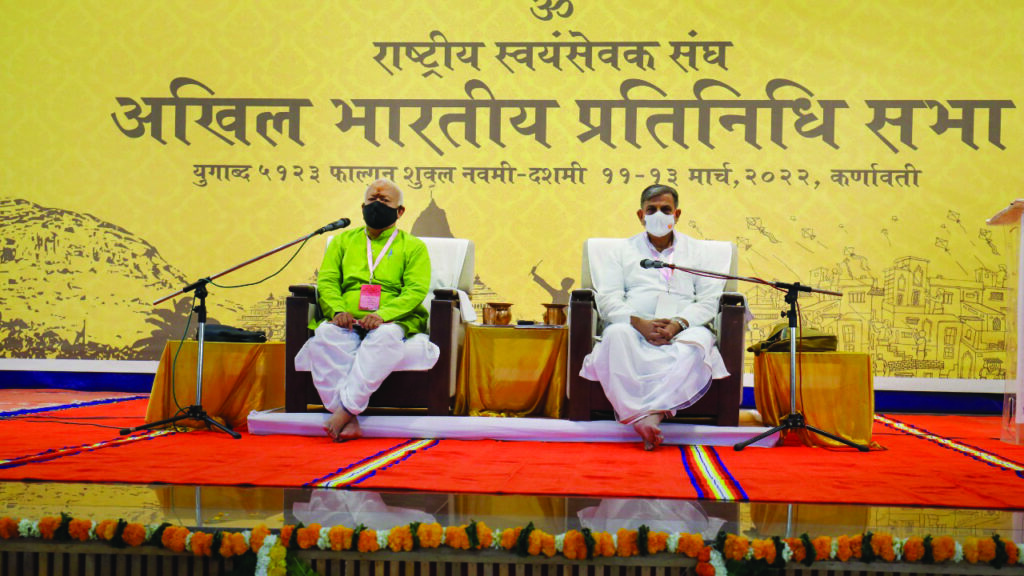 Akhil Bharatiya Pratinidhi Sabha baithak (ABPS) is the top decision-making body of RSS. Its baithak was of utmost importance from the decision-making point of view of the Sangh. The ABPS holds its meeting every year to take stock of the organisation and its work, and chart the future course of action. In the meeting, various plans and decisions for the upcoming years have been finalised. Last year, due to the Corona pandemic, the meeting was conducted at a small scale where some Karyakartas joined the meet in person, while the others joined online from their Prant Kendra. This year, the meeting at Ahmedabad, Gujarat was conducted in full swing. In the meeting, RSS's plan of doubling its base by 2025, when it will celebrate its centenary year, was discussed top on the agenda. Sarkaryavah (second in-chief of Sangh), Dattatreya Hosbale said that Sangh would make special efforts to take forward the discourse of Bharat realisation. The conference was attended by 1,200 key leaders or office-bearers from across the country including Sarsanghchalak (RSS chief) Mohan Bhagwat and representatives from 36 affiliated organisations like Bharatiya Mazdoor Sangh, Vidyarthi Parishad, Vanvasi Kalyan Ashram, Rashtra Sevika Samiti, Vidya Bharati and Vishva Hindu Parishad.
This year's convention was significant in many ways, adding to its expansion and celebration plans for 2025, ABPS has engineered a "Bharat-centric" model for employment generation, which is the most challenging issue the Modi govt is facing these days. Sangh's focus will be on the areas like rural employability, unorganised sector employment, jobs for women and their overall participation in the economy. In its resolution, the ABPS said it wishes to emphasise that the entire society has to play a proactive role in harnessing work opportunities to mitigate the overall employment challenge.
Usually Pratinidhi Sabha used to be conducted only in Nagpur, but there have been exceptions, such as when it was conducted in Rajkot in 1988.
In the baithak statistical figures about Sangh Karya were also presented by different prants, along with the ideas of Amrut Mahotsav of Azadi. As part of the 75th year of India's Independence, the RSS has undertaken a nationwide study with the help of several organisations to highlight the "unsung heroes" and places; as there are many freedom fighters about whom people do not know much so efforts will be made to provide such information to society. Many programmes about them will be undertaken to provide awareness through various events, films, activities and books. Moreover, RSS will initiate other events apart from this to make people Atmanirbhar (self-reliant) through Swarojgar (self-employment) at a rural level. The RSS leadership keeps talking to various frontal organisations and keeps an eye on the feedback of the governance and party functioning of BJP. Uncomfortable questions, failures and criticism are usually discussed in such meetings.
Spreading Wings
The RSS has planned a shakha in each of the villages before 2025 to achieve the target of extending Sangh Karya to 1,00,000 places on the occasion of Shatabdi Varsh when the organisation will complete 100 years of its existence. Right now, Sangh has a presence in 4,683 out of 6,483 development blocks but we want to reach all the development blocks of India by March 2024. There are 59,000 mandals in the country. Each mandal comprises 10 to 12 villages.
"In the next two years, the Sangh will try to expand its base and work to establish shakhas in all the mandals. Due to the coronavirus pandemic membership drive came to a standstill. Now we are planning to achieve it during the next two years," Sah Sarkaryavah Manmohan Vaidya said.
This year's convention was significant in many ways, adding to its expansion and celebration plans for 2025, ABPS has engineered a "Bharat-centric" model for employment generation, which is the most challenging issue the Modi govt is facing these days
He added, "between 2017 and 2021, as many as 1 lakh to 1.25 lakh persons expressed their desire to join the organisation, adding that people from Malwa (central India) and West Bengal had sent more requests in comparison to other regions in 2021." In Kashmir, Sangh used to run its Shakhas but after the migration of Pandits, activities were affected. Now the situation has changed. Regional pracharaks are renewing their strategies of expansion there.
At present, RSS runs nearly 60,929 shakhas (branches) at 38,390 places and out of it, 97.5% of shakhas started working again after an ease in Covid-19 related restrictions, including daily Shakhas (branch), weekly Shakhas, fortnightly and monthly Shakhas. It aims to increase it to 1 lakh. To reach out to the youth and professionals, the RSS has also started night shakhas that start at 9.30 pm and weekly meetings. Furthermore, around 20,681 weekly meetings and Sangh Mandlis are held at 7,923 places. It is noteworthy to know that shakhas are RSS fountainhead's smallest units and the backbone of the organisation, which help bring about a change in society by engaging more people in social work.
RSS has also appealed to those who wish to volunteer to work for two years to expand its base across India and ensure its presence in all the development blocks by 2025. Right now, Sangh has either no or very limited activities in Mizoram, Nagaland, Kashmir and Lakshadweep.
Targeting Youth
These days social networking platforms like Quora and Facebook are flooded with various inquisitiveness about RSS like 'How can I join RSS?', 'What are the benefits of RSS?', 'Why do we need RSS?' and 'Is RSS political or spiritual?' Such questions pop up easily. This curiosity of the young population shows the popularity of the organisation. The 'Join RSS' link on its official website has become an important tool to make new members. It also gives information about the nearest shakha centres to new joiners. So, digitalization has made Sangh's accessibility easy to millennials. Apart from those joining the RSS through shakhas, a significant number of people are showing their interest in becoming a part of it through the "Join RSS" campaign being run on the organisation's website. If we go by numbers, this year from January to March around 19,048 new people joined the Sangh. According to the RSS leader Manmohan Vaidya, from the Sangh's website, 1,25,726 new people have joined the Sangh in 2017, 1.5 lakh in 2018, 1,29,520 in 2019, 1,32,500 in 2020 and 1,06,154 in 2021. We have to reach to the mandal level, connect more people with us and have our swayamsevaks at places where they are not there yet," he said.
For West Bengal, to create cracks in the fortress of Mamata Banerjee, RSS has a target to add around 700 more shakhas to its existing network of 1900 shakhas by 2024
Nowadays, Sangh runs more than 25000 schools with 45 million students across India including underprivileged children and tribal areas. RSS – the 97-year-old conservative Hindu outfit has been updating itself as per the time and circumstances. Now, it is also reaching out to the youth through social media platforms such as Facebook, Instagram, Quora and Twitter. It has now more than 5.4 million followers on Facebook and any query or message on this platform is replied to within a day.
Whether to preach or to hold meetings it has communicated very well through social media during the pandemic period. On these social media platforms, the Sangh updates about the events organised by it and the literature related to the organisation. RSS has a plan ready for the urban settings of metro cities where nuclear families live in high rise apartments, too. Shakhas will be organised online and offline in such high-rise apartments and for that, the organisation will appoint apartment pramukhs.
Presently, 61 percent of shakha attendees are students from schools and colleges. Vaidya said, "this shows that the number of youth taking interest in the RSS is increasing. 92 percent of the total 2,303 cities in the country have shakhas. It shows that our spread is increasing." Last year Mohan Bhagwat launched a mobile app Audio Kumbh. Through this app, the audio version of the Sangh literature is easily accessible. Currently, there are 17 books available on the app including Social Harmony written by present Sarsanghchalak Mohan Bhagwat, and the story of the Creation of Pakistan by KS Sudarshan.
Besides audiobooks, the app also provides podcasts. Sangh knows that the app would go a long way in spreading "national thought" among the country's techno-savvy, mobile-friendly people. Adding to this, the organisation's app-RSS is also available on the Google play store. And soon it will start its own streaming platform like Amazon Prime. Another important mobile app, called Samarth Bharat connects NGOs with those who are interested in volunteering.
Uneasy Feedbacks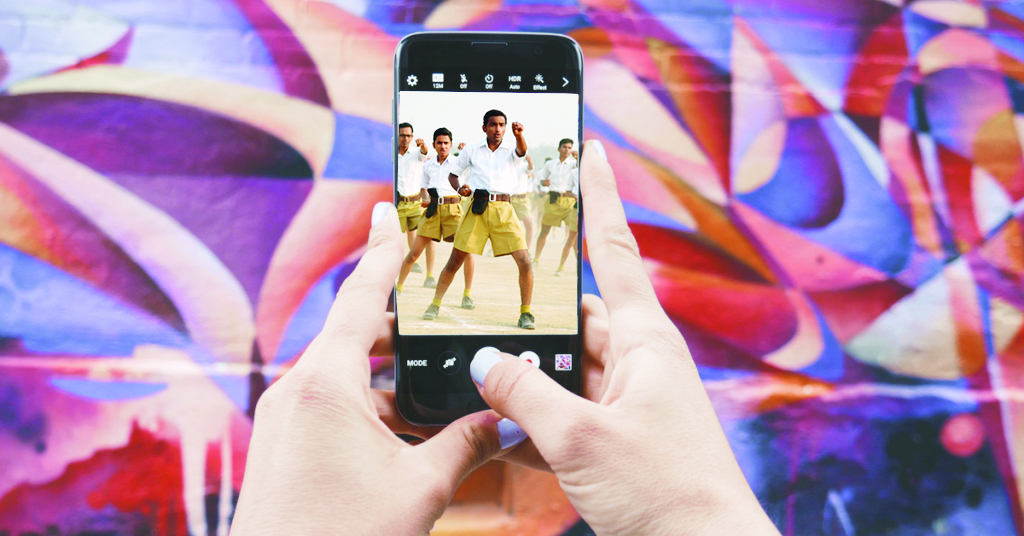 Moving away from Ram Mandir, religious conversion and other issues, the RSS has admitted for the first time that the country needs to have more employment opportunities. During the ABPS meeting, the RSS has said that India needs to focus on homegrown industries to generate more employment and discussed the need to create a 'Bharatiya economic model'. "The young generation is suffering from unemployment and the pandemic has made things even more grim. We know some people are unemployable, but Bharat has to have enough opportunities for the rest. We cannot always depend on FDI or companies to come to the country and establish their shops to generate employment." said a senior Sangh functionary.
Digitalisation has made Sangh's accessibility easy to millennials. Other than those joining the RSS through shakhas, a large number of people are showing their interest in becoming a part of it through the "Join RSS" campaign being run on the organisation's website
Many of its affiliated organisations have been preparing the ground report for quite some time. The uneasy feedback shows how the government's failed economic policies have created dissatisfaction among youth. Dissenting views and general feedback about the party and policies have always been gathered through the grassroots-level RSS functionaries, and even from well-known sympathisers.
Last year, RSS held a daylong meeting with 70 columnists from across India to clear misconceptions about the organisation. The 70 columnists who attended the meeting write in different vernacular languages. The closed-door meeting and the proceedings were "strictly confidential", the sources said. A similar meeting was also held in 2019 where RSS Chief Mohan Bhagwat interacted with around 80 journalists representing more than 50 organisations and hailing from 30 countries. Before the Uttar Pradesh elections, the RSS had done a ground survey to study the level of migration from the rural and semi-urban belts of the state. One point of its focus was Gorakhpur — an area that records high migration to big cities every year. Another feedback Sangh has taken after the catastrophe created by the second wave of Covid-19.
Indigenous Campaign
When the second wave of Covid 19 created catastrophe in the country and the Modi govt came into fiery questions for mismanagement, that time RSS initiated a campaign to spread greater awareness about the Covid vaccination and dispel rumours regarding it. Prachar Pramukh (publicity chief) Sunil Ambekar pointed out that an awareness campaign for vaccination is still running in towns and villages, "At 10,000 different places in the country such awareness programmes are already being run. They are going door-to-door and informing people that there are no negative impacts of the vaccines".
The Bharatiya Shikshan Mandal (BSM), a Sangh affiliated organisation, has focused on the education and research sector. It has begun work on developing digital infrastructure that will complement the Modi government's Digital India campaign and address concerns of 'cyber security.'
With the help of modernisation and technology, RSS is creating a new definition for itself. It is transforming into a unique creation, and Mohan Bhagwat as head of the gigantic organisation in the world, which is now both civil society and regime
As per sources, the project will be carried out in collaboration with universities, private companies and with some assistance from government-aided bodies. Like China, BSM wants to develop its own 'Made in India' search engine options and social media platforms for Indians. Therefore to create secure spaces for Data, BSM is eyeing tie-ups with IITs and universities. BSM is also getting ready to launch incubators for universities and researchers to drive the Sangh's Swadeshi campaign. It says these centres would nurture students who have ideas, but not enough logistical support. It is believed that through these campaigns Sangh will saffronise the education sector. It has already initiated this idea by signing up with some universities to ensure that PhD guidelines make it mandatory for applicants to prove the applicability and social relevance of their projects. Notwithstanding, China's search engine Baidu is similar to Google, but its focus is on China, where it controls most of the search market. Baidu censors search results and other content under Chinese regulations. And it is believed BMS wants similar features of internet control through local search engines.
The organisation is also promoting its ideology through intelligentsia and academia across the country, which will help them with a long-term strategy of political functions for the BJP in future.
To counter the growing influence of the Popular Front of India (PFI) in the various university campuses of South India, RSS is working rigorously. Considering this, the Sangh wants to solidify the base of Akhil Bharatiya Vidyarthi Parishad (ABVP), its right-wing student organisation, moreover Sangh is also reaching out to sections within the Muslim community that are not aligned with the PFI.
Mission Possible
There is a popular saying "Where the Sun cannot reach, the poet will reach". We can fit RSS easily in this saying as it is expanded to West Bengal, Punjab, Tamil Nadu, Telangana and Kerala, where BJP's base is not strong because in these states people have been preserving their own distinct culture, language and identity. So the connecting link was missing, but now, RSS wants to see its presence so its expansion plans for these states are on the top of the list. For West Bengal, to create cracks in the fortress of Mamata Banerjee, RSS has a target to add around 700 more shakhas to its existing network of 1,900 shakhas by 2024.
Tamil Nadu is another prominent southern state, which has been on the radar of the RSS since the passing away of its very popular and influential regional leaders — Jayalalithaa and Karunanidhi. After a long wait of 92 years, the first meeting of the RSS was held in Coimbatore in March 2017. This meeting of ABPS was inaugurated by Mohan Bhagwat himself. In Tamil Nadu Sangh's popularity grew rapidly between 2010 and 2020. Currently, there are around 2,200 shakhas out of which 600 shakhas were established in the last decade only. There are some front organisations like Hindu Munnani and associate political parties like Hindu Mahasabha which are also active in the rural areas, especially in the Coimbatore-Nilgiris zone. Through donations to temples and funding of rural religious festivals, the cadre of Sangh is active at the grassroots in rural and semi-urban areas with the help of influential North Indian traders and the business community. The local units are advised to identify temples longing for financial support and organise activities to engage the local community, especially the women. They are also organising weekend get-togethers of influential business groups.
Small puja events like Ganesh Puja, Vinayaka Chathurthi and Krishna Jayanthi festivals are slowly being surrendered to the initiatives of RSS in Tamil Nadu and West Bengal.
BJP-RSS Union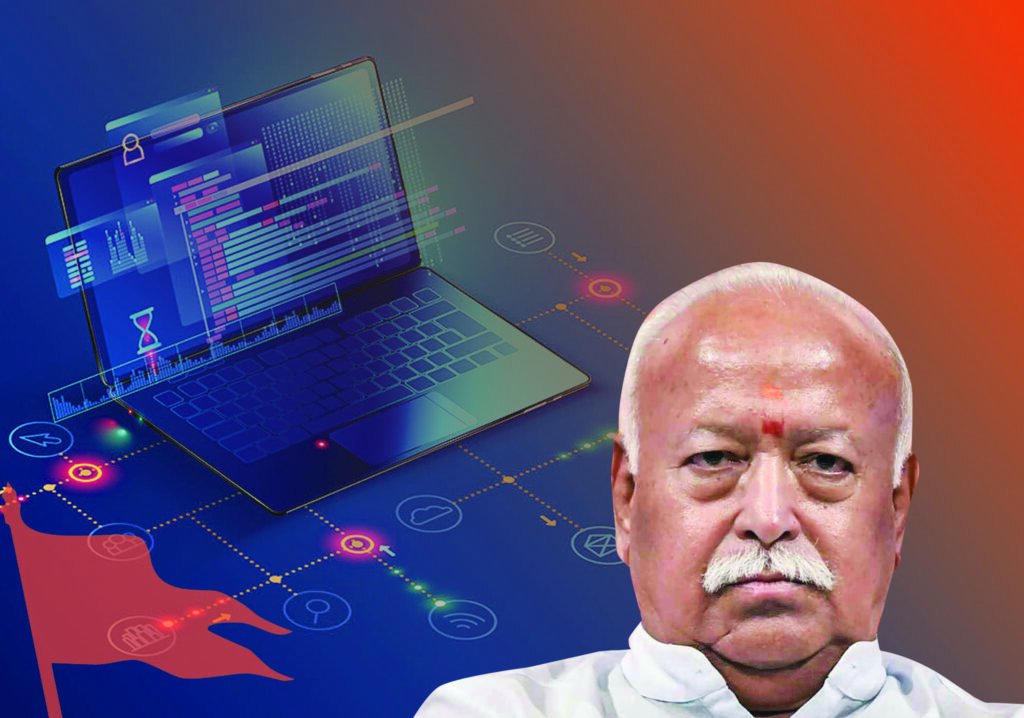 The BJP's ambition is to stay in power. The RSS's ambition is to use power to change India in its own image. The strength and weakness of the RSS centred around the image of itself. As a shakha, it is running splendidly. RSS, in fact, is brilliant at disaster management. During the pandemic around 4.5 lakh, Sangh workers worked day and night across the country.
With the solidity of their rightist ideology, RSS has washed out leftist ideology from contemporary Indian society. The outfit could put a Kumbh Mela of campaigners on the ground. Superbly indoctrinated, they were at home at the ground level. BJP and RSS suffered from historical envy. As deeply nationalist parties, they discovered they were not part of the national movement. Although late arrivals of Indian history RSS and BJP are brilliantly domesticating India, but oddly, they were never at peace with the image of themselves. Their sense of hierarchy sometimes leads to friction. The RSS has always felt it was the nursery from which the seedling called the BJP emerged. It claimed a tacit sense of policy and ideological priority. Delhi may seem the centre of the party, but Nagpur is the source of origin of ideas, ideologies and the codes which determine rightist politics.
After the thumping results of the assembly elections, it is proved that the growth of RSS would automatically impact the voters' mobilisation in favour of the BJP. But the Sangh is anticipating its pivotal and bigger representation. Hence, With the help of modernisation and technology, RSS is creating a new definition for itself. It is transforming into a unique creation, and Mohan Bhagwat as head of the gigantic organisation in the world, which is now both civil society and regime. His speech is also a reflection of his vision of a changing India and RSS's changing role in it. This time RSS stepped into the limelight to say they not only write the script but that they direct the play and determine who the actors are or can be.
---