The populist schemes, mostly renamed from existing ones, have created more distraught in the rural sector than ever before, and everything is statistic-driven
By Rashme Sehgal
THIS is a pivotal moment in Indian politics.
In less than 100 days the country will elect a new prime minister. The present prime minister Narendra Modi came to power making a lot of promises. The key question of course is how have these promises made in the areas of health, agriculture, sanitation, job creation, smart cities materialise on the ground.
Smart cities did not mushroom. Jobs did not bloom. Ujjwala gas cylinders were given at subsidised rates even while the recipients never bought a second cylinder. Latrines were constructed at break neck speed, only to be used as storage dumps.
Jan Dhan accounts were opened one after another but were not worth the paper spent on starting them, as the accountee had no money to put into her account.
CRUEL UJJWALA
Modi's highly touted Pradhan Mantri Ujjwala Yojana (PMUY) of giving free gas cylinders and subsidised stoves has a target of reaching out to 80 million families by 2020.
The PMUY was launched in May 2016 and initially targeted 50 million BPL families giving them a support of Rs 1,600 per family. So far 58.5 million connections have been given under the scheme across 715 districts.
The initial budget for the scheme was Rs 8,000 crore. The government announced an additional Rs 4,800 crore in February 2018, bringing the total allocation for the scheme to Rs 12,800 crore.
The government claims nearly 80 per cent of Ujjwala consumers come back to the oil marketing companies for a second refill, while 45 per cent took three or more refills in a year.
But data put out by the Ministry of Petroleum in January 2018 contradicts this claim, stating that the country has 3.82 crore inactive LPG connections, almost at par with the total number of gas connections distributed under this scheme.
Ministry of Petroleum data (January 2018) says the country has 3.82 crore inactive LPG connections, almost at par with the total number of connections under Ujjwala
The Ministry of Petroleum's analysis shows up interesting facts. While the number of LPG connections across India increased by 16.26 per cent in 2016-17, the use of gas cylinders increased by only 9.83 per cent – lower than the rate recorded in 2014-15, when the scheme did not exist.
The moot question is why are these connections not being used? Why have the women beneficiaries gone back to using firewood after having finished using their free gas cylinders? Their answer is very matter-of-fact. Much as they would want to, they simply cannot afford a new cylinder.
FUELLING STATS
Clearly, the babudom is in a rush to generate statistics on paper that would please the 'Boss'.
But the catch here is that once they accept a cylinder, their names are taken off the Below the Poverty Line families thereby disallowing them from availing of several government entitlements, including cheap grain.
A study conducted by an NGO called Disha found that 953 of the 1,080 surveyed Ujjwala beneficiaries had been converted to Above Poverty Line status after receiving LPG connections. The Adivasi women said ration shop dealers refused to give them subsidised kerosene and food supplies meant for BPL families.
Similarly, in Odisha, government data shows that while 27 per cent beneficiaries took a second refill in 2016-17, the figure had gone down to 21 per cent in 2017-18.
The entire implementation process has been extremely ad hoc and unplanned, done more with an eye to impress Narendra Modi than anything else.
This ad hocism was brought to the forefront in an investigative piece done by a website, where National Panchayat Day was celebrated by giving two awards to two women panchayat leaders in Mandla district in Madhya Pradesh, though neither of them knew why they had been selected.
It turned out that one of them was receiving a certificate because her village qualified for the Ujjwala Yojana scheme and the other woman panchayat leader was receiving it because her village qualified for the implementation of the Saubhagya Yojana, the central government scheme which provides free electricity connections to poor families.
This award under the Saubhagya Yojana (for being 'qualified') was being given although the village had been electrified (except for three houses) even prior to the launching of this scheme.
A key government study to assess the impact of a pilot project of the Ujjwala Yojana pointed to the likelihood of poor families being unable to afford cooking gas, even at a subsidised price. But the government went ahead and scaled up the scheme. The result is that consumption figures have not kept pace with new connections with large groups of women going back to using firewood.
CLEAN LIES
Another scheme launched with much fanfare on Gandhi's birthday on October 2 by Narendra Modi was the Swachh Bharat Abhiyan, which aimed to eliminate open defecation in India by October 2019. Four years on, the Ministry of Drinking Water and Sanitation has declared 25 states and union territories free of open defecation.
This has been done allegedly by falsifying records. Names of poor families who have been unable to construct toilets have not been included in the final lists.
Here again, the government is giving Rs 12,000 to families to be used in the construction of a toilet. Unfortunately, on the ground that is too little, as can be seen in the case of lakhs of daily wagers who are struggling to make ends meet.
Take the case of a Munshi Ram who works as a construction labourer near Alwar. His meagre one room tenement does have a new cooking stove but the cylinder has been kept in the half-built latrine built adjacent to his house.
Ram admits to having received Rs 12,000 to construct a toilet which, he has done, but he needs Rs 20,000 to connect the latrine to the village's sewer line or to build a septic tank. Since he does not have the money to invest further, the latrine lies unused.
For women-headed households, the problem is worse, since their earnings are much less than that of the menfolk. They have followed Munshi Ram's example and taken the Rs 12,000 and ended up having a half-built, unusable toilet.
For government officials, under pressure to meet targets, they will declare villages to be ODF, which means the area's entire population has access to toilets and uses them regularly instead of defecating in the open, when this is simply not the case.
The village sarpanch will off the record admit that records have been fudged but that is it.
There are other shortcomings with the Swachh Bharat scheme. The Swachh Bharat Mission subsidises toilets only for households identified as lacking a toilet in a 2011-12 baseline survey. But these numbers are not reliable as households that have been constructed in a village after 2012, or those that were excluded from the survey, are left out of government lists.
OBSTACLES OBFUSCATED
In their determination to show 100 per cent ODF, several other key obstacles that villagers face in using toilets are not mentioned in government despatches.
Several districts in Maharashtra, Karnataka and Rajasthan are facing acute water shortage. In several drought hit areas, villages are surviving on tanker water. Buying water at exorbitant rates creates a huge hole in their pockets, and they are therefore hardly in a position to be using water in latrines.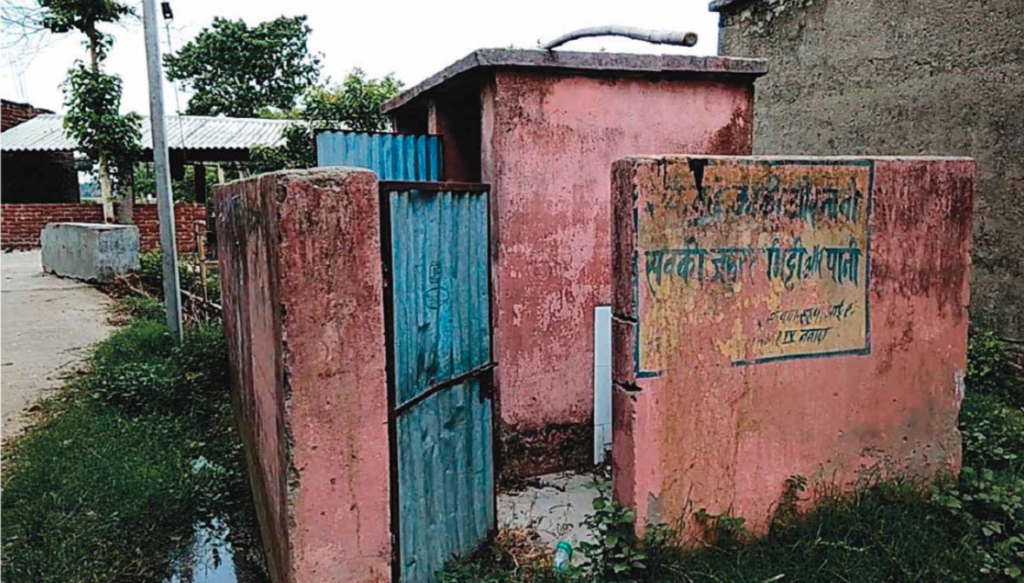 Once they accept a cylinder, their names are taken off the Below the Poverty Line families thereby disallowing them from availing of several government entitlements, including cheap grain
But the official threat is that if they failed to construct toilets, they will not get a 'red stamp' on their ration cards, showing they are an 'open defecation free family'. This red stamp is much touted in villages because today it has become a prerequisite in getting access to ration grains and other essential services.
In other villages, other compromises have been worked out. While the women folk will use the newly-built latrines, the menfolk continue to defecate outside. This kind of compromise has been arrived at to ensure women safety as also to conserve water.
'SANITISING DATA'
The National Annual Rural Sanitation Survey (NARSS) and the Ministry of Drinking Water and the World Bank claim that in March 2018, over 93 per cent people with access to toilets were using them. The ministry has also pointed to the findings of a survey by a government organisation, the Quality Council of India, which showed latrine usage at 90 per cent.
Public health researchers do not agree with these figures. For instance, the National Family Health Survey-4, released in January 2019, found that open defecation at the household level in Ajmer in July 2016, was only 39 per cent.
The Performance Monitoring and Accountability, a rapid-survey of 4,893 households by Indian Institute of Health Management Research university in Jaipur found that open defecation level in rural households was 49 per cent in October 2017.
A trip to the Mandla district in Madhya Pradesh confirms these findings. Toilet after toilet is lying unused. It is either in a state of disrepair or else is being used as a storage site. Despite being aware of the situation on the ground, the administration is building toilets with a missionary zeal.
At last count, 148,814 toilets had been constructed in Mandla – one toilet for seven people. With Rs 12,000 spent per toilet, the expenditure has already crossed Rs 178 crore.
Officials admit this money has gone down the drain but there is little they can do, as this remains the Prime Minister's pet project.
HOME TRUTHS
But the scheme from which Modi has tried to derive the maximum political capital is the Pradhan Mantri Awas Yojana (PMAY), which gives financial assistance to build a concrete house. The assistance has doubled from Rs 75,000 per rural house under the previous government's Indira Awas Yojana to Rs 1.6 lakh.
But like the toilets, the PMAY faces its own unique problems. Villagers have taken the money and built houses. Here again, in many cases a bare structure has been constructed, minus the doors and windows because, again, they have run out of money.
But there is another problem with these new houses. These are built of concrete and are much too hot for them to go and live in during the long and gruelling summer months. So they continue to live in their old houses which were made from mud, limestone and tiles, and may look poor but are comfortable.
Instead of encouraging the villages to spend their money in strengthening their old homes and streamlining them to suit their needs, the government is giving money to the villagers who then go ahead and construct a new place next to their old home and then leave that bare structure unused.
The villagers believe that since they are getting money from the government for a new house, why should they refuse it.
The PMAY is a grandiose scheme to say the least. Modi wants to achieve a goal of housing for all by 2022 and according to a report by CRISIL, the government needs Rs 1.5 lakh crore in seven financial years to meet this target with the cost of an average house being Rs 1.5 lakh. So far, it has disbursed Rs 32,500 crore which is around 22 per cent of its target.
The situation on the job front is equally dismal. The periodic labour force survey (PLFs) conducted by the National Sample Survey Office reported the unemployment rate at 6.1 per cent for 2017-18, which is the highest in 45 years. The unemployment rate for young urban men between 15-20 years is 18.7 per cent.
In rural India, the rate is 17.4 per cent. Unemployment rate for women in this age group in urban India is 27.2 per cent. The much touted demographic dividend of India has turned into a nightmare. Not surprisingly, demonetisation only served to worsen this crisis.
But after the NSSO report leaked out, the Modi government, totally unashamed, declared it will bring out 'new data' to show what Modi said in Parliament that "crores of jobs have been created", without minding the recurring newspaper reports of youth committing suicide due to hopeless unemployment.
UNHEALTHY TREND
The same distortions are to be found in Modi's much touted health initiative. The Pradhan Mantri Jan Arogya Yojana (PMJAY) is supposed to give a five lakh rupee annual coverage for in-patient care to ten crore poor families.
However, the budgetary allocations do not match with that promise. Going by the NSS health data of 2014 which shows that from an estimated total of 24.85 crore families in India, 5.72 crore had to resort to hospitalisation. By that calculation, out of the ten crore families, there would be roughly 2-3 crore hospitalisations a year.
But from the present financial allocation made, only 15 per cent of families will be covered.
Since this is a newly launched scheme, it is too early to get a proper feedback, but the Ayushman Bharat Mission CEO told the media in December 2018 that 4.6 lakh people had availed of its benefits already.
Health experts point to the contrary. They point out that funds for the National Rural Health Mission, which provides funds for rural primary healthcare, have been reduced from 52 per cent to 41 per cent. Within the NHRM, there have been budget cuts for reproductive and child healthcare projects and maintenance of rural healthcare infrastructure.
The allocation for communicable diseases such as TB, diarrhoea, pneumonia, hepatitis and other infections have also been reduced.
Aruna Roy, social activist and founder of the Mazdoor Kisan Shakti Sangathan, points out that "all these schemes are not new and have existed before…. Before putting the same of similar kinds of programmes in place, this (Modi) government should have moved away from bombast to take a reality check of the reasons for non-reach. Instead, the same programmes with new names came to the people. They have not been duped".
Roy further maintained: "At best, new issues or materials were subsidised. Very often like with gas cylinders a peculiar contradiction emerged. They gave the cylinder with one hand and took the recipient off the poverty list. In fact, affecting the food and other securities and guarantees, which are far more important. The reduction and withdrawal of gas subsidies has made many people go back to firewood.
"Indian governments have forever made toilets an important issue. The reasons for non existence have never really been addressed. This government has made too much noise and delivered very little. 'Swachh Bharat' as a phrase has become almost a synonym for illegitimate claims of government performance," Roy added.
RENAMING THE OLD
Environmentalist Kavita Kuruganti feels that the Modi government has been actively dismantling schemes that existed, whether it be for farmers, MNREGA or other social security projects.
Akhila Shivdas, heading Centre for Advocacy and Research, feels that these schemes have worked wherever there have been strong community systems of management to help implement them. "At an individual level, if there is no support to help in their implementation, they have just disintegrated," said Shivdas.
India is facing a crisis on many fronts, whether it be in jobs, a rising graph of pollution and illness and a deteriorating environment. Instead of these being tackled in a holistic and forthcoming manner, we have been bombarded with a list of achievements which do not show up on the
ground.