Is Cinema ready for the 3-D internet? The Metaverse has grown with several virtual startups in India. Until now many experiments have been done to bring grandeur to movies through technology. After VFX and special effects, there is now a Metaverse for movies
By Geeta Singh
Metaverse is best understood as 'a quasi-successor state to the mobile internet'. it will not replace the internet, but instead transform it
Gartner, a technological research firm, predicts that by 2027, most B2C enterprise CMOs will have a dedicated budget for Metaverse experiences
Vashu Bhagnani's Pooja Entertainment bought its first virtual plot in the Metaverse, becoming first ever of Indian cinema to step into this
Industry insiders hope Metaverse will help in many ways if it finds its way into the entertainment industry
WELL, the world of entertainment can explore anywhere from the depths of reality to the sky of imagination. There is no substitute for a human presence to convey a message, but now it is possible to imagine any scene by creating a virtual world, and film studios are ready to take it on.
We are talking about the Metaverse. Metaverse is booming rapidly, engulfing start-ups, and MNCs alike into its fold. But, the latest sector to join this expanding space are the film industries across the world. The entertainment world is now ready to take its films through the Metaverse to a world that may be beyond their dreams.
The Metaverse space has started growing with the arrival of several Metaverse startups in India. Until now many experiments have been done to bring grandeur to movies through technology. VFX and special virtual effects have become essential elements of many films, but now here is a Metaverse for movies as well.
WHAT IS METAVERSE?
Metaverse is made up of two words. Meta means Beyond, that is, something that does not exist and is beyond thought. It is the universe that cannot be seen, which is called verse.
So the Metaverse is a form of mixed reality that is quickly becoming common in tech products. The combination of Augmented Reality (AR) and Virtual Reality (VR) will not only introduce digital elements to the real world but will also connect the Internet with the virtual world. This will make the user experience more like the character Neo from the cult classic 'The Matrix'.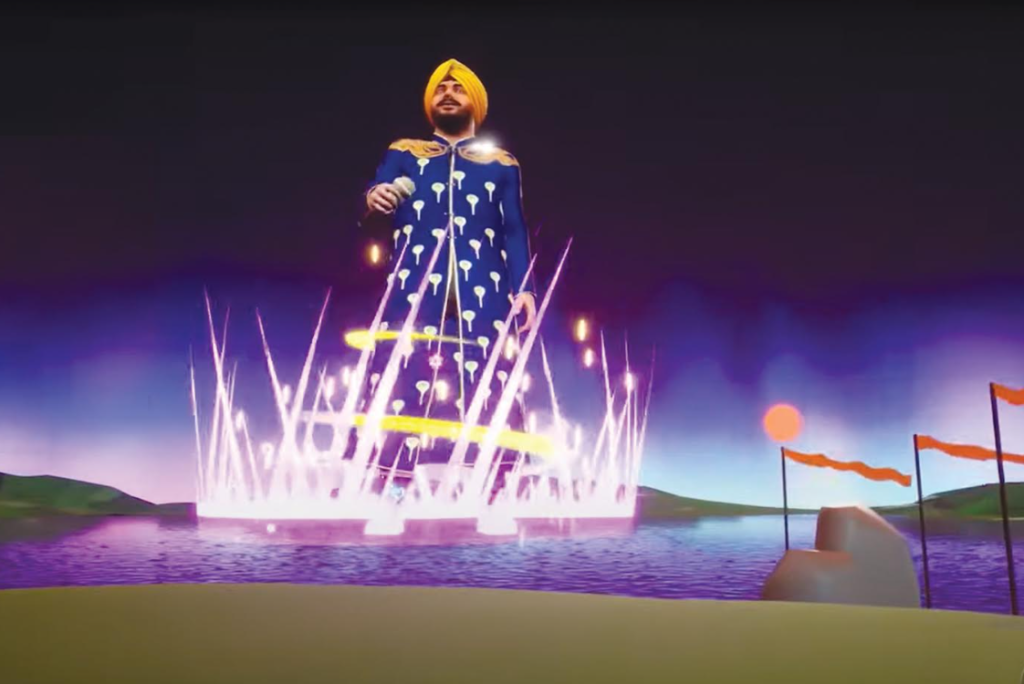 According to Matthew Ball, noted tech expert and the CEO of Epyllion, the Metaverse is best understood as 'a quasi-successor state to the mobile internet'. This is because the Metaverse will not fundamentally replace the internet, but instead build upon and iteratively transform it.
The concept of Metaverse is gaining more popularity in recent times, especially in the fields of music, arts, gaming and entertainment. Daler Mehndi became the first Indian singer to perform in a Metaverse space. He made a republic day special performance in the Metaverse called 'Party Nite'
Overall, it's a virtual world. Ever since Neal Stephenson envisioned it in his book 'Snow Crush' in 1992, it was understood that one day the human mind would make it a reality. A place where you are not there, or cannot even imagine yourself being there, but can register your presence through technology, virtually.
Metaverse will allow users to work, meet, play games and socialise together in a 3D space. From the comfort of your own home, you can experience the space. Everything in the Metaverse is virtual. Nothing is real. It is a virtual world that is entirely dependent on the high-speed Internet. Metaverse is impossible without high speed internet and gadgets.
FUTURISTIC TECH WORLD
Six trends, which are making a splash in the Metaverse technology sector today are Gaming, Digital Humans, Virtual Spaces, Public events, Tokenized assets and Spatial Computing. This process will continue for the next three to five years. Speaking at the recent IT Symposium in Australia, Marty Resnick, VP analyst at Gartner, said that full adoption of Metaverse technology will take 10 years. There are practical ways that companies are now using them, for example in employee onboarding, sales enablement, higher education, medical and military training.
Gartner, a US-based technological research and consulting firm, predicts that by 2027, most B2C enterprise CMOs will have a dedicated budget for digital humans in Metaverse experiences. Virtual space Virtual space – or digital world – is a computer-generated environment where people can come together with personal avatars or holograms.
Virtual space engages multiple senses and provides participants with the ability to immerse themselves in and interact with the space. For example, they can be used to increase access to customers who are unable or unwilling to engage in in-person engagement, to provide more flexible options for travel, or to enable collaboration between employees. Gartner predicts that by 2025, 10% of employees will regularly use virtual space (in activities such as sales, onboarding, remote teams), up from 1% in 2022. It is estimated that the Metaverse market in India will reach $800 billion in just two years.
NEW FAD OF FILM INDUSTRY
Like other sectors, in the film industry, too, Metaverse has emerged as a new craze in the last two years. It is evolving as a new and innovative way to engage with audiences and consume content.
Last year leading Music company T-Series announced its entry into the Metaverse in a joint venture with Hefty Entertainment, a division of Hungama Digital Media, to launch digital art pieces and non-fungible tokens (NFTs) for some of their films.
Vashu Bhagnani's Pooja Entertainment bought its first virtual plot in the Metaverse, becoming the first ever production house of Indian cinema to have stepped into this virtual universe. The company has named this virtual place as 'Poojaverse'. Poojaverse will carve out a virtual space for the makers to create immersive and real life-like experiences for viewers. Recently the banner has announced a movie 'Bade Miyan Chote Miyan' with Akshay Kumar and Tiger Shroff. The film is touted to be the first ever Indian film to be announced within the Metaverse. Besides Hindi, this film will also be released in Telugu, Tamil, Kannada and Malayalam.
Speaking about Poojaverse, Vashu Bhagnani, the head of Pooja Entertainment, says that "Metaverse is an innovative and emerging concept in the world, and when something like this happens, the whole world benefits. The biggest benefit for Bollywood would be to make it visible to the whole world. In the past, we would have had to go through the territory to get to China or the US, but now this will not be necessary. I want to build a big city inside it. I have a plan for this."
In Regional cinema also Metaverse is creating headlines. Last year 'Made in Bengaluru', a Kannada drama film released at Interality, where movie fans took selfies with different avatars of the film's cast. Interality is a Metaverse gaming platform for creators and brands to build & launch mixed reality worlds.
In May 2022, Fantico, a Vistas Media Capital company, launched its first Metaverse experience in VistaVerse through its film 'Vikram'. The film stars Kamal Haasan, Vijay Sethupathi and Fahadh Faasil, and is directed by Lokesh Kanagaraj.
The project also offered Vikram NFTs, and many more utilities like unique artwork of characters, digital avatars, props, posters, film memorabilia, fan interaction moments, private screenings, and access to invite-only VistaDome parties. The limited-edition Vikram NFTs were launched at the Cannes Film Festival amongst the global film fraternity.
---
FILM STARS' AVTAAR FOR METAVERSE
IN the last decade, social media emerged as a powerful medium for election campaigns. There would hardly be any political party that is not using these social media platforms to put forward their point of view and respond to the allegations of rivals.
Entertainment and technology companies rushed to secure a position in the metaverse after Meta Platforms Inc CEO Mark Zuckerberg announced the future of his company would be devoted to creating a robust, three-dimensional, persistent environment where users' Digital Avatars would work, hang out and pursue their hobbies. In India also many film stars have ventured into the Metaverse business.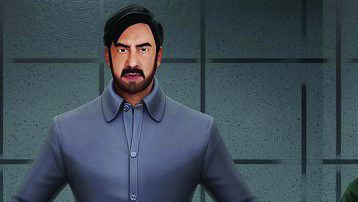 AJAY DEVGN: Ajay Devgn has stepped into the Metaverse universe with his virtual avatar through 'Rudra – The Edge of Darkness'. Talking about this new development, Ajay Devgn said, "The exciting and novel space of the metaverse is an all-new world. From a digital series debut to my very first venture into the metaverse, this has been an incredible journey for me." Hungama Digital's web3 venture has teamed up with Hefty Entertainment for this metaverse. The web series 'Rudra' is an Indian version of the British series 'Luther'.
KAMAL HASAN: Kamal Haasan is also coming to the Metaverse. Together with Frantico, he is going to launch his new digital identity, called Digital Reality Space. Frantico is a game-based metaverse in which Kamal Haasan will have his own virtual world. It will be a digital reality space through which his fans from all over the world will be able to connect with his world. They will be able to see his digital avatar and also buy merchandise. He said, "I am very curious to know about this emerging digital and physical world which is now being known as the Metaverse. My journey of life of more than six decades has given me personal experience and bridged that gap in my professional life."
SALMAN KHAN: After ruling the Bollywood industry and NFT Realm, Salman Khan also enters the Metaverse as his most loved character Chulbul Pandey from Dabangg. The Salman Khan-inspired NFT collections by BollyCoin, will include wearables like accessories, outfits, or skin. Coming to the more exciting part, whoever would be the holder of these NFTs can use these collections in Metaverse platforms such as Decentraland and Sandbox. Apart from this, the Chulbul Pandey NFT holders will also get exclusive access to special Bollywood virtual events in the Metaverse. The company that itself started back in October 2021, has just one ambition in mind and that is taking Bollywood to the metaverse via their NFTs.
---
DISNEY'S METAVERSE PLANS
Famous Hollywood studio Walt Disney sketched the contours of a plan for how the entertainment, theme parks and consumer products conglomerate will use technology to enhance storytelling for the next 100 years.
Most people overlook Disney's expertise, relevance and contribution to the budding Metaverse. After embracing visual production at an enormous scale in 'The Lion King,' Disney Studios has shifted to pure virtual production in series like 'The Mandalorian'. In the second season of the web series 'The Mandalorian', Disney's Industrial Light & Magic replaced its real-time rendering engine Unreal with Helios, its proprietary rendering engine.
The studio is now deploying the Unreal Engine in multiple experiences in their theme parks. While Disney doesn't have gaming assets, it is clear that they have many technical abilities. Speaking with Reuters, CEO Bob Chapek took great pains to avoid what he called the "M-word," or Metaverse, despite pushing the company in that direction last year. Bob Chapek has been one of the most vocal entertainment industry chiefs about the possibilities of the Metaverse. Chapek, who oversaw the parks division before taking over the top job in 2020, has spent years preparing how to extend the theme park experience to people who will never visit one of the company's six theme parks globally.
The Burbank entertainment company has already hired people to work toward this idea of "next-generation storytelling," where audiences might see, for example, ways for their Disney parks experiences to connect with what they're doing on streaming service Disney Plus. And as more technologies have come available that support more interaction, higher volumes, enhanced intimacy, we've seen the strongest and most beloved franchises become stronger and more beloved. The Metaverse, as another medium for expression, exploration, creation and storytelling, will strengthen companies like Disney, even if it also enables creative stories and intellectual property that thrive.
SHARED EXPERIENCES
The concept of Metaverse is gaining more popularity in recent times, especially in the fields of music, arts, gaming and entertainment. Most recently, singer Daler Mehndi became the first Indian singer to perform in a Metaverse space. He made a republic day special performance in the Metaverse called 'Party Nite'.
Kannada blockbuster 'KGF: Chapter 2' was distinctly advertised on the Metaverse. The producers created a platform called KGFVerse, which allowed people to create their own avatars. In the US, rappers like Lil Nas X and Travis Scott also held concerts last year for millions of virtual concertgoers.
International brands like Tommy Hilfiger have introduced digital ready-to-wear fashion for Roblox avatars. Nike opened a virtual world called Nikeland last November. Visitors can play dodgeball with friends, lace up virtual Air Force 1 sneakers and win medals in Nikeland. Paris Hilton has created her own virtual world called Paris World. Visitors can visit a replica of her Beverly Hills estate and dog mansion.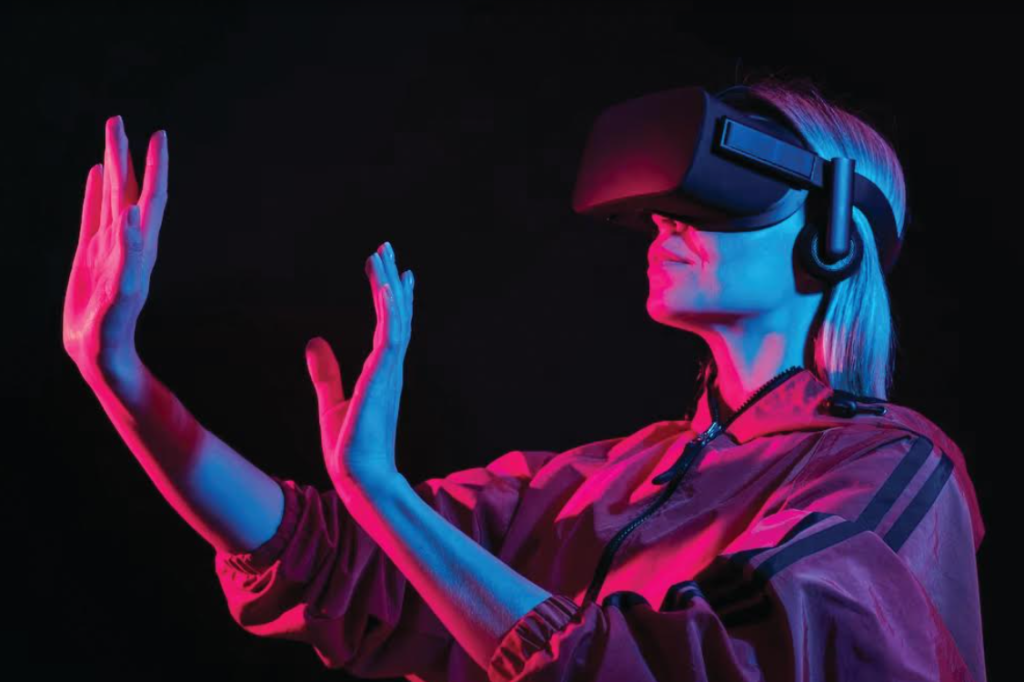 Metaverse is a form of mixed reality that is quickly becoming common in tech products. The combination of Augmented Reality (AR) and Virtual Reality (VR) will not only introduce digital elements to the real world but will also connect the Internet with the virtual world. This will make the user experience more like the character Neo from the cult classic 'The Matrix'
These are some of the shared experiences out of siloed immersive applications and allow for more opportunities to meet, collaborate, interact and participate. It is estimated that by 2028, 10 percent of public events (such as sports and performing arts) will offer participation in the Metaverse, fuelling the rapid buildout of commercial Metaverse shared experiences.
ECONOMY TRANSFORMATION
With Metaverse partnership between T-Series and Hefty Entertainment, it is estimated that more than two lakh songs and 65,000 music videos and 150 plus movies will reach the audience in Indian languages and this would enable users from all over the world to buy and trade NFTs.
According to Bhushan Kumar, "As of now, the Metaverse is more focused on gaming. We are in the early stages, but we see a huge pool of opportunities. Bringing entertainment to the Metaverse will open up space for new audiences." "For example in today's times if there is an event or a concert that we are hosting, instead of doing it on a live streaming platform, we can take the Metaverse approach and take the audience to the world."
Industry insiders hope Metaverse will help in many ways if it finds its way into the entertainment industry. It will also change the economy. It is believed that by 2025, Metaverse's market value will be 800 billion dollars.
India seems ready for a Metaverse revolution. In the world of Metaverse gaming, we have done well, but we need to find our footing in the entertainment industry.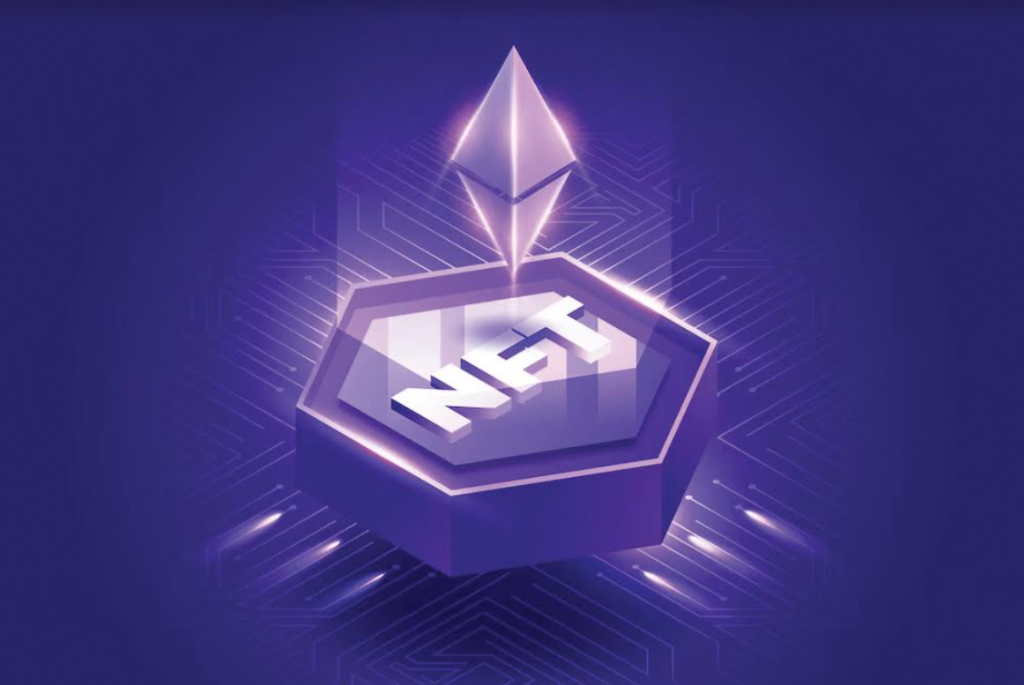 With Metaverse partnership between T-Series and Hefty Entertainment, it is estimated that more than two lakh songs and 65,000 music videos and 150 plus movies will reach the audience in Indian languages and this would enable users from all over the world to buy and trade NFTs
About 16% of the 2.7 billion worldwide gamers base is in India. There are around 100 crore smartphones in the country. India has been very efficient at downloading as well, so the Metaverse will become a means of flying high in the world of imagination. It is predicted that this will be a perfect storm scenario where all forces come together to define it and invest heavily in its development. In addition, it will define its definition.
But as they say, time will tell where this new tide takes us. Metaverse ecosystems will thrive when barriers to entry are lowered for consumers. There is a pressing need to provide ubiquitous 'Metaverse' connectivity. 5G's high throughput and low latency will address consumer barriers to adoption. 
Technology enablers across cloud, silicon & GPU, connectivity and bandwidth, and consumer gadgets, real-time data streaming and analytics capabilities are currently available to make this a successful reality. It may still be some time before humans land on Mars. However, the Metaverse can definitely offer a living experience not only on Mars but also across the Milky Way.
---
NFT A NEW CRAZE
Since digitalization was introduced in 2020, NFTs have flourished in India and found their niche. Nevertheless, NFTs gained popularity when celebrities, athletes, and musicians started designing their own collections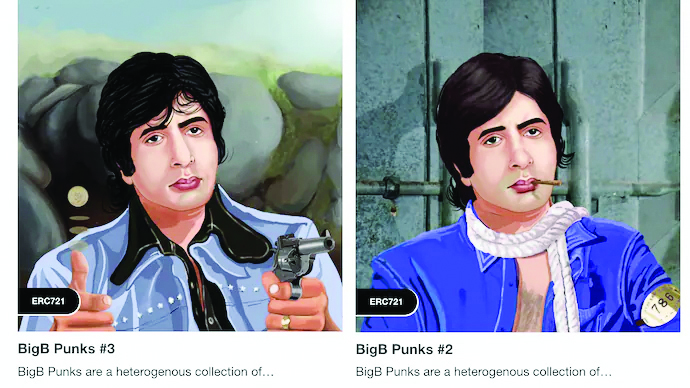 BLOCKCHAIN-BASED digital collectibles have completely changed the way we look at investments and assets. Digital art, music, fashion statement pieces, film posters and much more, the NFT world has grown like never before. Let's first understand what NFTs are. Non-fungible tokens (NFTs) are cryptographic assets based on blockchain technology. They are generally created using the same programming used for cryptocurrencies. NFTs are crypto digital assets that exist within a blockchain and are unique and exclusive. Every NFT comes with its own unique code and cannot be replicated. They can neither be replaced nor interchanged because they have distinctive properties. NFTs can be online-only assets such as digital artwork or real assets like real estate. Some examples are in-game avatars, digital/non-digital collectibles, tickets, domain names, and more. Anything can become an NFT—a piece of art, sports memorabilia, or even a tweet.
The NFT business is worth billions of dollars, as some of the most unique ones cost millions. To put things into perspective, digital artist Beeple sold an NFT for USD 69 million at Christie's auction. Twitter founder Jack Dorsey sold his first tweet for 1,630.58 Ether, which comes to about USD 2.9 million at the time of sale. Indian celebrities have also launched their own NFTs.
AMITABH BACHCHAN: An Indian icon, Amitabh Bachchan, hopped on the NFT bandwagon in November 2021 and was one of the first Indian celebrities to launch his own NFT collection. The NFT collection included his father's poetry collection, Madhushala, Iconic Vintage Posters and Loot Box. The Madhushala NFT was the most expensive, selling for $756,000. The Loot Box was worth $10 each and meant every buyer got an assured art piece from the NFT collection. It offered 5,000 collectibles and saw more than 300,000 people sign up. The Iconic Vintage Posters NFT featured seven autographed posters from the actor's iconic films like Sholey sold for $94,052 while the Punks and NFT Arts collection went for $66,900. The transaction was done via NFT marketplace BeyondLife.club and the entire collection was sold for about Rs 7.18 crore.
RAJINIKANTH: Superstar Rajinikanth partnered with Singapore-based NFT marketplace Diginoor.io. Rajinikanth launched NFTs based on his 2007 Tamil action blockbuster Shivaji The Boss. Diginoor.io signed up with film production house AVM Studios. The opening price for seventeen NFTs ranged from USD 99 (Rs 7,386.59) to USD 1,500 (Rs 1,11,918). Needless to say, they were immediately sold out.
KAMAL HAASAN: Actor-turned-politician and Tamil superstar Kamal Haasan, too, has his NFT collection. On the marketplace Fantico, the actor offered up to 1,000 NFTs, including customised posters. In addition, Kamal Haasan became the first Indian to have his own metaverse, which featured his own avatar. Fantico will create a metaverse game in which the avatar will have its own world. Participants and fans will be able to interact with the avatar, buy memorabilia and even participate in meet-and-greet sessions.
SALMAN KHAN: Last year in November on Twitter Salman Khan launched into this NFT space with his Dabangg-based NFT series. He has tied up with Bollycoin, founded by his brother in law Atul Agnihotri, a Bollywood NFT marketplace. Sources coo that it closed its pre-sale round of 20 million tokens worth $2 million within a month. By buying the tokens, holders can reap real-world benefits each time they sell NFTs on the BollyCoin platform. Investors can deal in cryptocurrencies like Ethereum and Polygon also.
SUNNY LEONE: Actress Sunny Leone became the first Indian actress to enter the NFT space when she launched Misfitz. Misfitz is a collection of 9,600 unique NFTs. Sunny went on to mint her NFTs. Minting is a process through which digital art becomes a part of the Ethereum blockchain – a public ledger that is unchangeable and tamper-proof.
MANISH MALHOTRA: One of India's top fashion designers, Manish Malhotra, sells NFTs of digital sketches of some of his most famous creations. The collection features sketches and GIFs of five couture pieces worn by Lisa Ray, Deepika Padukone, Kareena Kapoor Khan, and Alia Bhatt. His website shows one can purchase some of his bridal wear outfits in a lower price range of $2,500-$3,500.
RAGHAVENDRA RATHORE: Another famous fashion designer, Raghavendra Rathore launched his NFT collection in 2021 on the WazirX NFT marketplace in association with the Fashion Design Council of India (FDCI) x Lakme Fashion Week and became the first Indian fashion designer to use it for a charity cause. The collection featured two sets of NFTs — the first set was inspired by the brand's heritage and the second was more of the designer's artworks, which were digitised. A portion of the sale proceeds goes to his foundation.
---