India sustains a lot of potential in solar, wind, and hydrogen energy but is, unfortunately, slowed down by financial restraints. This is where a collaboration with the EU can prove to be successful
By Barish Raman
The European Green Deal aims to cut 55% of emissions by 2030
EU needs to find an extra €210 bN over the next five years to pay for gradually eliminating Russian fossil fuels
In Germany, renewable energy sources produced more electricity than all fossil fuels
Bhadla Solar Park in Rajasthan is the world's biggest solar park spanning over 14,000 acre
DESPITE Europe's major dependency on oil as its main source of energy, the European Union (EU) has united together to fulfill its collective goal of moving forward from that dependency to a more sustainable mode of relying on renewable energy. The European Union has also confidently shown its commitment to the goal by signing the European Green Deal in December 2019. The European Green Deal, which is the new growth strategy for Europe to become the world's first climate-neutral continent by 2050, also aims to cut emissions by at least 55% by 2030. In addition, from 2026, road transport will be covered by emissions trading, putting a price on pollution, stimulating cleaner fuel use, and re-investing in clean technologies. The Russo-Ukrainian war has also played a major role in boosting the supra-state organization's commitment to eliminating the dependency on Russia for oil after soured relationships with the organization with Putin's cruel and unthoughtful decisions during the war.
EASE OFF RUSSIAN DEPENDENCY
However, despite having the determination and intentions to phase out Russian dependency, it is proving itself to be quite difficult for the EU as they need to find an extra €210 billion over the next five years to pay for gradually eliminating Russian fossil fuels and speeding up the transition to green energy. "It is clear we need to put an end to this dependence and a lot faster than we had foreseen before this war," said Frans Timmermans, the EU official in charge of the green deal. According to him, in comparison to the need for the €210 billion for renewable energy infrastructures like solar panels and wind energy equipment, the EU already had to spend €100 billion every year on Russian oil. Hence, this motivates the Union to further hurry up this energy independence so that the money can stay in Europe itself and also put a halt to the undeserving profit towards Russia. Although, rushed decisions could also mean having to increase coal and nuclear energy use to instantly replace Russian fossil fuels, which would counter-attack the EU's goals towards curbing climate change.
NUMBERS TELL STORY
The good news for the European Union is that they are, indeed, on the right track with positive gradual growth towards their aims. According to Eurostat, the statistical office of the European Union, in 2020, renewable energy represented 22.1% of the energy consumed in the EU, around 2 percentage points above the 2020 target of 20%. Additionally, in 2020, renewable energy sources made up 37.5 % of gross electricity consumption in the EU, up from 34.1 % in 2019. Wind and hydropower accounted for more than two-thirds of the total electricity generated from renewable sources (36 and 33 %, respectively). In Germany, renewable energy sources produced more electricity than all fossil fuels (coal, gas, oil) together and now provide more than 40 percent of German electricity demand, as of 2021.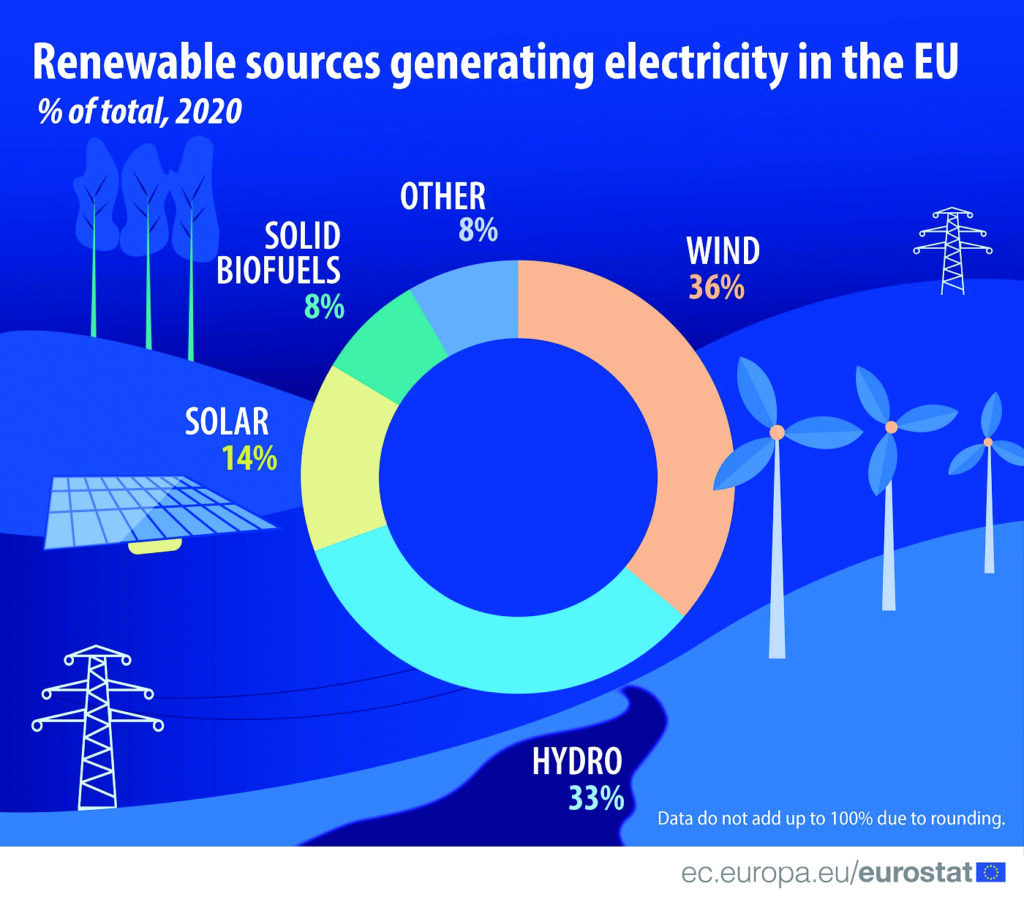 This successful growth should act as an inspiration to India to further take charge and transition to renewable energy as it has planned to do so for quite some time now. India is the world's 3rd largest consumer of electricity and the world's 3rd largest renewable energy producer with 38% of energy capacity installed in the year 2020 (136 GW of 373 GW) coming from renewable sources. The government has also announced that it aims to reach net-zero emissions by 2070 and to meet fifty percent of its electricity requirements from renewable energy sources by 2030, acting in a major role to fight climate change, globally.
Even now as heatwaves ripple through all of north India, the scorching heat acts as a reminder that it is time for India to embrace sustainable energy. While it is hard for people in metropolitan cities to be able to beat the heat even with the help of air conditioners, villages and small towns in the rural sections face power outages for up to 14 hours. Work, leisure, education, and happiness, all sufferings simultaneously with it. With children not able to study, people unable to work, and no solutions to curb the unnatural heat that is a direct symptom of rising climate change, it makes the exigency of Indian energy production, evident.
The Russo-Ukrainian war has played a major role in boosting the supra-state organization's commitment to eliminating the dependency on Russia for oil after soured relationships with the organization with Putin's cruel and unthoughtful decisions during the war
The Indian government was only able to think in the short run with their only solution being increasing coal mining production when on May 7th, the Environment Ministry allowed some coal mines to operate at 50% rather than the allowed 40% without getting environmental clearance. India already gets more than 75% of its energy from coal, however, coal shortage is no stranger to the topic of Indian power crises.
We faced a similar shortage last year as well, and it is only during these shortages that we resort to using wind energy rather than using it more efficiently. With a country with the second-largest population and the third-highest electricity consumption in the world, it is apparent that it is not wise to rely on coal for our primary energy needs due to its limited quantity, consumption method, and extraction method. In spite of these factors, India has not yet woken up to the way we should move ahead in the energy crisis and get inspiration from the EU and its determination to curb its dependency on an unreliable source like Russia.
According to the National Investment Promotion and Facilitation Agency, India has set an ambitious target to achieve a capacity of 175 GW worth of renewable energy by the end of 2022, and expand to 500 GW by 203, making it the world's largest expansion plan in renewable energy. However, this seems like an unreachable goal at the moment as then, they would need 30GW more, every year, to reach that goal, when in reality, India only manages to get half of that.
NET ZERO GOAL
Similar to Europe's Green Deal, India has also set the goal of achieving carbon neutrality by 2070. Prime Minister Modi's recent visit to Europe also focused a lot on the two states' renewable energy plans and the positive relations between the country and the Union that can make potential ways for both of them to collaborate on their shared goal. In Denmark, he also said that "the mindset of use and throw is negative for the planet. It is necessary to get out of the consumption-oriented approach and the need of the hour is to promote 'LIFE': Lifestyle for Environment."
During PM Modi's visit to Germany, Chancellor Scholz agreed to make an advance commitment of 10 billion Euros to fund India's green initiatives under private, public, and Public-Private Partnership (PPP) models until 2030. Additionally, around 200 Danish firms have investments in India in shipping, renewable energy, agriculture, and smart urban development. This positive support from Europe might be a turning point in our commitment to go green.
India sustains a lot of potential in solar, wind, and hydrogen energy but is, unfortunately, slowed down by financial restraints. This is where a collaboration with the EU can prove to be successful. Handelsblatt, a German newspaper, once shed light upon this potential by showcasing in an analysis that European energy companies can spend up to one trillion euros on wind and solar energy by 2030.
India and Europe already share a deep relation with collaboration on energy as one of its pillars, for instance, their joint Declaration of Clean Energy and Climate Partnership (CECP) in 2016 which has enabled us to join hands with different European nations with the goal to facilitate deeper cooperation to achieve more affordable clean energy and ensure that both parties achieve Nationally determined contributions (NDCs) in due time.
This relationship can also achieve a more equalized proportion of give and take if India can utilize its enormity and offer energy to the EU with their financial support. For instance, Bhadla Solar Park in Rajasthan is the world's biggest solar park spanning over 14,000 acres with an operational capacity of over 2 GW, whereas according to Bloomberg NEF, solar energy can provide roughly 20% of the total EU electricity demands by 2040, in comparison to the current 5%.
Conclusively, it is not only passive inspiration from the EU but also the support they are offering to us that can motivate us to commit to renewable energy just like them. With a wake-up call for both of us to change our energy sources, we can join forces and flourish politically, economically and most importantly, environmentally.