Wastewater is unfortunately released into natural environments untreated because water utilities do not have sufficient sewerage infrastructure to collect the wastewater or suitable treatment capacity to separate and treat the sludge it contains
By Suraj Nangia
A paradigm shift from "use and throw" to a "use, treat, and reuse" methodology is needed to manage wastewater
In the current eco-friendly and zero-carbon ecosystem, sludge is increasingly seen as a resource
The inefficient use of wastewater can create huge economical and environmental implications
Anaerobic Digestion is a cost-effective alternative for many wastewater treatment plants
IN a highly water-stressed environment, the inefficient use of wastewater is leaving India unable to make the most economical use of its resources, argue a set of researchers from the Council on Energy, Environment & Water. As per the statistical reports, almost 80% of water flows back into the ecosystem as wastewater. This is a critical environmental and health hazard when not processed & treated. There is a need to manage and follow certain scientific processes that could help wastewater management.
A paradigm shift from "use and throw" to a "use, treat, and reuse" methodology is needed to manage wastewater. In India, investment in wastewater treatment has its associated risks & considering that, it is important to understand the inherent social, political, technical, and financial factors that drive, facilitate, and sustain wastewater management interventions.
SLUDGE- A CHALLENGE
A major environmental challenge for wastewater treatment is the disposal of excess sludge produced during the process. Sludge management is one of the most challenging tasks of wastewater treatment plants due to its high-water content & poor dewaterability and government regulations for reusability or disposal. Sludge from municipalities (often called sewage sludge) is a by-product of wastewater treatment. It is normally a mix of organic matter from human waste, food waste particles, microorganisms, trace chemicals and inorganic solids from products and medicine we use, together with water bound to these materials.
Industrial sludge is a by-product of the manufacturing/industrial processes and has varied output resulting in sludge content in each industry. Managing that is a challenge with the authorities, it has a mix of chemicals and salts which needs to be treated differently.
In India, the government is providing various funds to state governments for setting up of Sewage Treatment plants along with funds for solid and liquid waste management (SLWM). The Atal Mission for Rejuvenation and Urban Transformation is supporting the cities, and Gram Panchayats for water supply & waste management, as one of their objectives for a sustainable SLWM project. After all these initiatives there were no substantial steps taken toward managing the wastewater sludge either by the government or the local bodies involved in setting up the plants in the vicinity.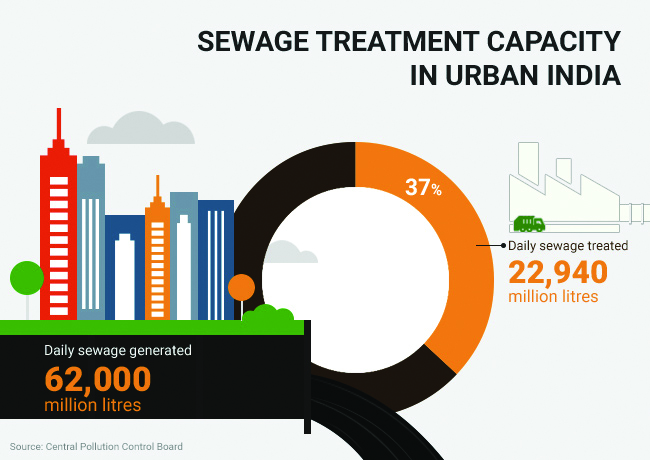 In earlier times when our country started working on setting up STP plants, pits were created to dump the sludge. In some cases the sludge was thrown in the close by water bodies, rivers, lakes or streams flowing by, which is an unhygienic process and ultimately produces water and soil pollution resulting in various diseases affecting humans as well as animals.
One live example is the case of Dehradun – the capital city of Uttarakhand, which has 7 existing sewage treatment plants & 6 sewerage zones. Besides the uncovered households, Dehradun has many hotels and institutions that generate large volumes of faecal sludge. Daily Faecal sludge and septage generation for Dehradun is estimated to be 320 KLD (overall Dehradun city). In the absence of an organised septic tank scheduled desludging and a planned co-mixing with sewage, there is a high risk of STP malfunctioning due to excess septage addition. Not to miss that the emptied sludge is discharged into a designated sewer manhole and wastewater is currently flowing, untreated, into the Ganga River through sewer lines and gravity flow.
IS SLUDGE A RESOURCE?
Wastewater treatment to recover clean water involves the tedious process of filtering wastewater solids (sludge). Sludge once separated from the sewage, cannot be disposed of in its raw form as its content can potentially contaminate the natural environment and food systems or directly affect human health. In the current eco-friendly and zero-carbon ecosystem, sludge is increasingly seen as a resource. This is because treating sludge through a process called "anaerobic digestion" allows water companies to recover biogas out of the material and make the biosolids a nutrient-rich soil product or fertiliser. In some cases, we retrieve from the sludge minerals such as phosphorus, a non-renewable resource. The value of sludge treatment in many places thus goes beyond hazard management and focuses on resource recovery and carbon neutrality.
Today we need to jointly address this issue i.e. the Government bodies and the local industry, where the government has to come up with sludge management guidelines and industry has to work on innovative means to use sludge. In India, we still don't have any regulations regarding wastewater sludge management.
There are two disposal strategies adopted globally for sewage sludge management – reuse, including agriculture or landscaping purposes, or final disposal. There are many strategies to reuse sewage sludge but also many restrictions on the use of the given management method. The preparation of sewage sludge for reuse, defined as sludge processing, is a viable alternative. If it is not possible to use sewage sludge in recovery processes, then it should be ultimately neutralised adequately.
The pertinent concept associated with the transformation of sewage sludge is the recovery, that is, the recycling or recovery of organic substances. One of the fundamental issues concerning good practices applied in the field of municipal sewage sludge is information on the amount of sewage sludge produced in sewage treatment plants worldwide. Without detailed knowledge of the amount of sewage sludge generated, it will not be possible to make the right decisions or investments aimed at the processing, recovery, or disposal of sewage sludge.
Sludge management is one of the most challenging tasks of wastewater treatment plants due to its high-water content & poor dewaterability and government regulations for reusability or disposal
Sludge treatment is an important element of urban wastewater treatment with defined objectives: Mitigate the health risks by treating the harmful microorganisms as pathogens present in sludge; Treat the organic matter in sludge that turns into harmful gases in the atmosphere; Decrease its final volume, typically reducing the associated handling costs; and Collect products and by-products of the treatment process, which may be used or sold to offset the sludge treatment costs.
There are major cost implications behind volume reduction and activities that offset sludge treatment costs. On an average, there is only 0.2 – 0.4% of sludge in the wastewater treatment plant, whereas its treatment usually accounts for up to 50% of the operational expenditures.
WHY TREAT SLUDGE?
In order to recover clean water, wastewater solids (sludge) need to be separated from the Sewage. The separated sludge if disposed of in its raw form has the ability to contaminate the natural environment, affect food systems and harm both physical and mental health of communities. However, in the current eco-friendly and zero-carbon ecosystem, sludge is increasingly seen as a resource owing to the process called "anaerobic digestion". Companies treating sewage can utilise this process to retrieve minerals like phosphorus, a non-renewable resource.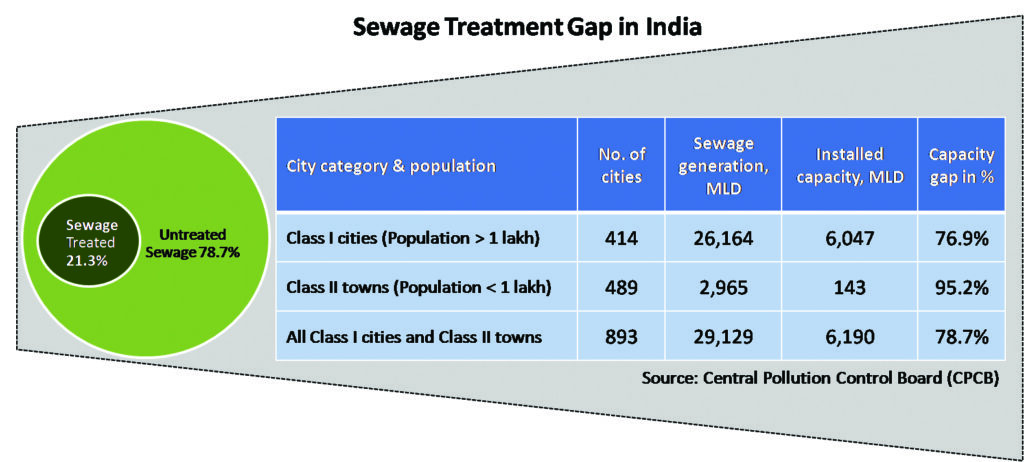 WHO TREATS SLUDGE?
Water Utility Companies are often in charge of wastewater treatment/sewage treatment. These companies can be private limited companies contracted by the government or government agencies. They are frequently assigned to collect and treat wastewater from a city or town's sewer network at wastewater treatment plants.
To achieve cost-effective and hygienic sludge treatment, smaller wastewater plants in towns and rural areas can pool their sludge in sludge centres, this will enable municipalities to develop centralised wastewater treatment plants that connect large sewage networks.
Water utilities in developing countries and rising nations fall short of sewage resources to collect sewage or suitable treatment infrastructure to separate and treat the sludge and thus, raw sludge is dumped into the natural environment untreated. To resolve this issue, Water Utilities can collect sludge from various septic tanks and then subsequently be transported to a neighbouring wastewater treatment plant or a sludge centre for treatment.
HOW IS SLUDGE TREATED?
There are many cost-effective techniques used by Water companies to deal with wastewater that remain compliant with the local/national regulations. Anaerobic Digestion is one of the most cost-effective alternatives for many medium and large wastewater treatment plants. Other approaches to stabilise organic matter in sludge include liming and large-scale composting.
The first step to treat wastewater includes separating raw sludge from the wastewater through one or several procedures. Then, the raw sludge can be treated in a separate stream. Thickening, anaerobic digestion and dewatering are often followed by biogas monetisation and biosolids reuse or disposal in traditional sludge treatment employing digestion.
DEVELOPMENTS
In recent times, there are various evolved technologies and equipment used to enhance and optimise the wastewater treatment process including modification of the digestion process, processing of the biogas received through digestion and recovering minerals such as phosphorus.
Plants that use advanced anaerobic digestion and produce high-quality biosolids are good examples of industrial progress. Advanced anaerobic digestion refers to either a modification of the traditional anaerobic digestion process or to additional technologies or procedures that improve digestion by enhancing the biodegradability of the sludge. It enables municipalities to process more sludge and create small (higher quality) biosolids while generating more sustainable electricity.
As per media reports, some examples of advanced digestion options include the following:
Thermal Hydrolysis
Pasteurization
Thermophilic Anaerobic Digestion (TAD)
Enzymatic Hydrolysis
The thermal hydrolysis process is quickly gaining popularity as a cost-effective and environmentally friendly pre-treatment option for mesophilic anaerobic digestion. This method is not employed on more than 40% of the sludge in the UK, and is spreading throughout the European Union, the United States and many other nations.
What happens after sludge is treated?
The water utility companies must send the biosolids products far away from the wastewater treatment plant for disposal or reuse once the sludge has been processed and deemed biosolids. As per media reports, they are then handled in one of the following ways:
Agricultural use or land application as soil fertiliser, soil amendment, or as part of a soil product;
Storage or surface disposal, i.e. sanitary landfilling, mono-filling, and placement in areas usually far from residents;
Incineration and subsequent landfilling or reuse of produced ash;
Ocean-dumping or open site dumping is widely banned in many countries to date but may still occur.
Land application on agricultural or non-agricultural land is considered a useful reuse option, whilst others are commonly referred to as disposal alternatives. Currently, land application is regarded as the most environmentally-friendly choice. Even for many affluent countries, it remains a challenge due to limited surrounding land or biosolid components that should not be dispersed in significant proportions on land, such as heavy metals or microplastics.
The amount of sewage sludge used in agriculture in the UK, France, Spain, Italy and Ireland increased between 1995 and 2000, but it declined in Germany, Denmark, Sweden, Finland, Austria, Portugal and Belgium. In the Netherlands and Greece, the amount of sewer sludge used in agriculture was small.
Health and Environmental hazards associated with wastewater have already been established in towns and rural areas within the country. The inefficient use of wastewater can create huge economical and environmental implications too. To reduce this, the wastewater facilities in the country need to take a step ahead and create a centralised wastewater system where each village, town and city from every state should have a wastewater unit which is connected to the larger facility. Raw sludge from the sewage of these units should be separated and should undergo special treatments like Anaerobic Digestion that can help create useful biosolids.
It is time we make the use of the phrase "Waste into Best" and create some of the most resourceful materials out of literal waste.
(Co-authored by Poonam Kaura, Partner-Government & Public Sector Advisory, Nangia Andersen LLP)