The media is stoking language issues around the Draft Education Policy, but the policy itself has other glaring problems depriving millions of poor children from quality education
By Robin Keshaw
MANY of you might remember Sunaina Rawat, a 14-year-old girl from Mohanlalganj in Uttar Pradesh. While covering the General Elections, 2019, NDTV's Prannoy Roy landed on Sunaina's doorsteps, as if by an act of providence. Sunaina walked with Roy and team through her kachcha house and barren fields and took the audience through her dreams, struggles and hopes.
She talked about the financial issues at home, her daily chores of filling water and carrying bales of hay and her challenges of going to school daily. She then confessed that the reason she's studying is because she wants to become a doctor and open up her own hospital someday.
Sunaina is not the only child who's dreaming big. There are millions and millions of Sunaina and Suresh who have pegged high hopes on education to bring the desired change in our society. Yet, year after year, our education system categorically bludgeons these innocent hopes and butchers the aspirations of these children owing to its archaic, and moribund structures.
The draft National Education Policy (NEP), which was put out in the public domain on May 30, has rekindled many such hopes.
MANY OF YOU MIGHT REMEMBER SUNAINA RAWAT, A 14-YEAR-OLD GIRL FROM MOHANLALGANJ IN UTTAR PRADESH. SUNAINA WALKED WITH PRANNOY ROY AND TEAM THROUGH HER KACHCHA HOUSE AND BARREN FIELDS AND TOOK THE AUDIENCE THROUGH HER DREAMS, STRUGGLES AND HOPES
The deliberations for the new policy started when a committee under Late TSR Subramanian was tasked with submitting a report. The Subramanian Committee held a large number of discussions and consultations before submitting its report to the government. However, this report was junked as the government found it a 'mere compilation' of some older reports. Later, a committee was constituted under the chairmanship of Dr K Kasturirangan, erstwhile ISRO chief. The committee went through another round of discussions and consultations and submitted its report to the government in December, 2018.
In Dr Kasturirangan's words: "Much has changed in the country and the world on social, economic, development and political fronts, and the knowledge base on which we work today is very different as an ecosystem compared to what we had 25 years ago. The new policy recommends radical changes that are aimed at addressing these issues."
The Draft
The former ISRO head is right in some ways. The draft NEP indeed consists some of the much-needed reforms to uplift our ailing education system.
The Draft NEP has dwelled considerably on the importance of Early Childhood Care and Education (ECCE). It talks about how more than 85 per cent of a child's cumulative brain development happens before the age of 6 and an investment of ₹1 in ECCE yields a return of ₹10. The draft proposes to bring the three years of pre-primary and the two years of Grades 1 and 2 into a composite unit with "a single curricular and pedagogical phase of play and discovery-based learning" between the ages of 3 and 8 years. It also provides a comprehensive framework of promoting ECCE through a network of Anganwadis and pre-primary schools with active support from primary schools.
It proposes to bring the ECCE component under HRD ministry so that curricular and pedagogical aspects are taken care of. Dr Venita Kaul, an ECCE expert and Professor Emerita at Ambedkar University says, "If implemented well, this can have a positive impact on children's learning as it would ensure a play-based, developmentally appropriate curriculum for children up to not just 6 but 8 years, which would give them a stronger foundation."
OTHER HIGHLIGHTS OF THE DRAFT NEP
1. FOUNDATIONAL LITERACY AND NUMERACY: There will be special attention paid to early language and mathematics in Grades 1-5. The Policy aims to ensure that every student in Grade 5 and beyond must achieve foundational literacy and numeracy by 2025.
2. UNIVERSAL ACCESS: The Policy aims to achieve 100% Gross Enrolment Ratio for all school education by 2030 through various measures.
3. EQUITABLE AND INCLUSIVE EDUCATION: The Policy has several concerted initiatives to ensure that no child loses any opportunity to learn and excel because of the circumstances of birth or background. Special education zones will also be set up to focus on this.
4. SCHOOL COMPLEXES: Government schools will be reorganised into units called school complexes, which will consist of one secondary school (Grades 9-12) and all other nearby schools that offer education from pre-primary till Grade 8.
5. TEACHER EDUCATION: Teacher preparation programmes will be rigorous and will take place in multidisciplinary higher education institutions. The 4-year integrated Bachelor of Education offered at multidisciplinary institutions would be the main way of becoming a teacher. Substandard and dysfunctional teacher education institutes will be shut down.
6. VOCATIONAL EDUCATION: All school students will receive vocational education in at least one vocation during Grades 9 to 12. They will receive exposure to vocations in more than one sector during Grades 6 to 8. Policy aims to provide access
to vocational education to at least 50% of all learners by 2025.
The draft recommends bringing the ECE under the RTE Act, thus extending the ambit of 'free and compulsory education' to children above 3 years of age.
Teaching Them
The committee has dared to acknowledge the severe learning crisis which is plaguing our country today. One of the major reasons for such pathetic learning levels is the weaker foundational literacy and numeracy in our students, which completely kills their interest in learning and ultimately results in dropouts.
The report says that 'attaining foundational literacy and numeracy for all children must become an 'immediate national mission'. It suggests a slew of measures to tackle this national crisis – expansion of midday meal programme to include breakfast, National Tutors Programme, Remedial Instruction Aides Programme, etc.
The draft relies heavily on parental and community engagement, but doesn't provide a clear roadmap to implement such measures.
The NEP recommends that a 5+3+3+4 curricular and pedagogical structure based on the cognitive and socio-emotional developmental stages of children, should replace the current 10+2 model. It wants the three years of pre-school (ages 3-6) to be clubbed with Grades 1 and 2 (up to age 8) and made into a single pedagogical unit called the 'Foundational Stage'. Grades 3-5 (ages 8-11) will be called the Preparatory Stage, followed by a Middle Stage of Grades 6-8 (ages 11-14), and finally a Secondary Stage of Grades 9-12 (ages 14-18). This has been welcomed by many educationists.
Elusive Burden
The recent spurt in the suicide cases of students highlights the excessive burden of education being faced by our young ones. NEP seeks to reduce the content and textbook load on students and discourage rote learning.
The curriculum framework will, therefore, shift focus from textbook learning to hands-on, experiential and analytical learning. All subjects, including arts, music, crafts, sports, yoga and community service, will be curricular. The curriculum will promote multilingualism, ancient Indian knowledge systems, a scientific temper, ethical reasoning, social responsibility, digital literacy and knowledge of critical issues facing local communities.
To reduce the pressure of board exams, NEP suggests many flexibilities around them. Between Grades 8 and 12, students will be allowed to take board examinations twice a year. Later, when computerised adaptive testing becomes widely available, multiple attempts will be allowed, in at least 24 subjects or, on average, three a semester. The examination will test only core capacities, basic learning, skills and analysis. 'Students should be able to pass comfortably without coaching and cramming,' the NEP states.
Missing the Shots
Typically, the shelf-life of the new education policy is 15-20 years. The long timeframe means that the policy should be highly aspirational in its approach and envision a roadmap which shapes the discourse around education. While the committee has recommended some visionary reforms, it has missed the shots in some crucial areas.
The societal landscape has changed drastically in the last couple of decades and will continue to do so at a much rapid pace in coming years. Global problems like climate change, terrorism, refugee crisis, etc., are very real and will be affecting our daily lives. On the other hand, socio-psychological issues such as deteriorating mental health, rising degrees of anger and impatience, lack of civic engagement are eating away our social fabric. As our young students enter into the real world, our education system completely fails them as it doesn't teach them to address these issues.
"The answer lies in equipping our children with a range of socio-emotional skills (also known as life skills or 21st century skills)," says Neha Arora, a Delhi government school teacher. "We teach our students to solve trigonometry problems and make them memorise World War dates. However, we are not teaching them problem solving, decision making, empathy, resilience, emotional management and other skills which will not only help them live a positive life but also bring a positive impact on the world," she adds.
AIMING HIGH
Some of the goals and recommendations to transform the higher education system in India
Objective: Revamp the higher education system, create world class institutions across the country – increase Gross Enrolment Ratio to at least 50% by 2035.
a. Higher education architecture shall create large, well-resourced, vibrant and autonomous multidisciplinary institutions for teaching and research, significantly expanding reach and capacity while building strong educational communities.
b. By 2030, all higher education institutions will develop into one of three types-research universities, teaching universities and colleges. There will be no single-discipline universities; even professional institutions will have to be multidisciplinary
c. Mission Nalanda and Mission Takshashila will be launched for catalyzing this new institutional architecture. A few pace-setting institutions, the Indian Institutes of Liberal Arts/ Multidisciplinary Education and Research Universities, may be set up as part of these Missions.
d. The Centre will set up ten Indian Institutes of Liberal Arts/ Multidisciplinary Education and Research Universities on the model and standards of the Indian Institutes of Technology.
e. The undergraduate degree may be of 3 or 4 years duration. Institutions may offer multiple exit options within this period, with the appropriate certification, an advanced diploma in a discipline or field (including vocational and professional areas) after completing 2 years of study or a certificate after completing 1 year.
f. The development of vibrant and rigorous curricula will be guided by the National Higher Education Qualifications Framework, which will outline the learning outcomes associated with the degree/diploma/certification offered in various fields and disciplines.
g. All higher education institutions will become autonomous self-governing entities and the practice of 'affiliation' will be stopped.
h. The National Higher Education Regulatory Authority will be the only regulator for all higher education, including professional education. All current regulatory bodies will transform into Professional Standard-Setting Bodies.
Happiness Curriculum
The draft NEP mentions that 'Students must develop not only cognitive skills both 'foundational skills' of literacy and numeracy and 'higher-order' cognitive skills such as critical thinking and problem solving skills but also social and emotional skills, also referred to as 'soft skills', including cultural awareness and empathy, perseverance and grit, teamwork and leadership, among others.' However, it completely ignores the integration of Social and Emotional Learning (SEL) into our education system. This is a glaring blind spot. The committee needn't have gone too far and study the impact of SEL in Delhi government schools as part of its Happiness Curriculum.
The role of a teacher is of paramount importance in developing social-emotional skills in our students. The Policy Draft (page no 113) has correctly mentioned some of the key attributes of outstanding teachers – "…passionate, motivated and well qualified" and teachers should be able to "relate to the students whom they teach, and are invested in the communities they serve."
THE DRAFT NEP MENTIONS THAT 'STUDENTS MUST DEVELOP NOT ONLY COGNITIVE SKILLS BOTH 'FOUNDATIONAL SKILLS' OF LITERACY AND NUMERACY AND 'HIGHER-ORDER' COGNITIVE SKILLS SUCH AS CRITICAL THINKING AND PROBLEM-SOLVING SKILLS, BUT ALSO SOCIAL AND EMOTIONAL SKILLS, ALSO REFERRED TO AS 'SOFT SKILLS'
But then it goes completely silent on improving the socio-emotional competence of the teachers and dwells mostly in the administrative realms of teacher motivation. "It's almost as if a high school student is made to write a 5 marks question on 'qualities of a good teacher', "quips Radhika Menon, a teacher education expert.
Eerie Silence
"The policy draft is eerily silent on the approach to improve teacher mindsets and relies on the age-old traditions of capacity building. These haven't worked in the past and will definitely not work in the future, where the role of a teacher will be to facilitate learning and role-modelling socio-emotional skills, rather than of a mere knowledge-giver," she remarks.
The draft doesn't talk about reforming the pre-service and in-service teacher training to develop socio-emotional competence in teachers and hence it leaves a conspicuous gap in the teacher education framework. 
Political Draft
The draft is surprisingly silent on some of the major contemporary issues of our education system. It is almost as if the committee members have got their message from what happened to Subramanian Committee report. It is completely silent about the political interference in higher education institutions.
A cursory look of the policy will tell a reader about the significantly higher levels of centralisation through the proposed framework for higher education – Rashtriya Shiksha Aayog which is to be chaired by the Prime Minister.
Anita Rampal, erstwhile Professor from Delhi University says, "The draft's highly centralising agenda also comes to the fore. Both the government-controlled Rashtriya Shiksha Ayog and the well-funded National Research Foundation, with links with the industry to "ensure that most urgent national issues are researched" merit discussion."
Recently, the Rajasthan government revised its textbooks to get rid of the so-called saffronisation which was induced by the previous BJP governments. Off late, textbook revisions have become a political tool to brainwash an entire cohort through our school education.
Surprisingly, the policy draft doesn't acknowledge this growing menace and doesn't provide any space to talk about this issue. This clearly means that such revisions will always be under political control and our children will continue to suffer.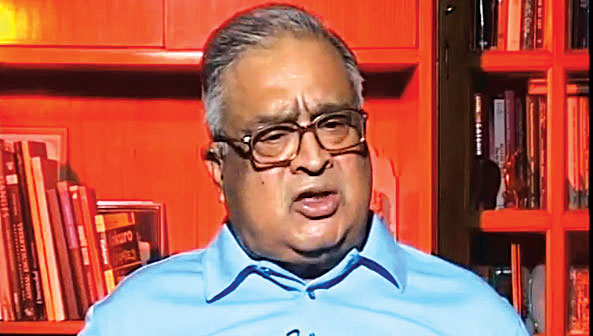 THE DRAFT IS SURPRISINGLY SILENT ON SOME OF THE MAJOR CONTEMPORARY ISSUES OF OUR EDUCATION SYSTEM. IT IS ALMOST AS IF THE COMMITTEE MEMBERS HAVE GOT THEIR MESSAGE FROM WHAT HAPPENED TO SUBRAMANIAN COMMITTEE REPORT. IT IS COMPLETELY SILENT ABOUT THE POLITICAL INTERFERENCE IN HIGHER EDUCATION INSTITUTIONS
As visionary and ambitious one would expect the policy draft to be, it ignores the perils of caste and class dynamics on the education system. Even in the chapter on inclusive education, it simply parrots the already known facts and repeats the age-old recommendations to build inclusive schools.
The committee had a golden chance to be bold and courageous to talk about some of the issues that matter in contemporary India, but it chose silence and conformity over speaking truth to the power. 
In one of his articles, Anil Swarup, former secretary for school education and literacy, laments, "Government doesn't require an education policy; it requires a clear-cut action plan because that is missing on the ground".
He can't be truer. In a country like ours, where policy implementation gap has almost been institutionalised with bureaucratic indifference and lack of political will, we needed much more than a lofty policy document. As of now, Sunaina and millions of our children will have to probably just wait for many more years for the inclusive, equitable and excellent education to become a reality in India.