They love each other. More precisely, they need each other. Politicians need babas for their vote banks and babas for political protection for their illicit activities. Sharad Gupta writes
Couple of images will be etched in public memory forever. Like top BJP leaders including then Prime Minister Atal Bihari Vajpayee, Deputy Prime Minister Lal Krishna Advani, Union HRD Minister Murli Manohar Joshi and then Gujarat Chief Minister Narendra Modi, bowing before Asaram Bapu and singing his praises.
Or like Sonia Gandhi, then All India Congress President, getting down into knee-deep water at Sangam in Allahabad during 1999 Kumbh Mela for a symbolic dip in Holy Ganga. She also bowed her head at Dwarka Shankaracharya, Swami Swaroopanand Saraswati's feet.
Who doesn't know that Asaram is in jail for the past four years after being convicted for raping inmates of schools run by his ashram. Sentencing of Gurmeet Ram Rahim Singh last month, in a similar case of raping inmates of his ashram, once again brought into focus the nexus between politicians and the Babas.
Right on the heels of the conviction, Gurmeet's adopted daughter Honeypreet Insan told the media that this was a betrayal by the Haryana government, as the then contending Bharatiya Janata Party had promised that for Dera Sacha Sauda's support to win 44 seats in the state Assembly, it would take back all the 'false' (sic) cases against him.
But till the conviction, the way the Haryana government bent backwards to accommodate Ram Rahim's demands, allowing over two lakh of his disciples to reach Panchkula, where his case was being heard in a special CBI court, was astonishing.
The sentencing resulted in a maniacal display of arson and violence by his 'chelas', 40 of whom died in the ensuing police firing.
The reason for Haryana chief minister Manohar Lal Khattar's softness towards Gurmeet Ram Rahim was the latter's declaration of support for the BJP in the run-up to Haryana Assembly elections two years ago.
DERA DURBAR
A week before the polling, BJP candidates were informed that their request to meet "Guru ji" has been accepted. Not to miss the chance, 44 of the 90 BJP candidates turned up to meet Dera Sacha Sauda Chief Gurmeet Ram Rahim Singh at his Sirsa-based Dera on October 7.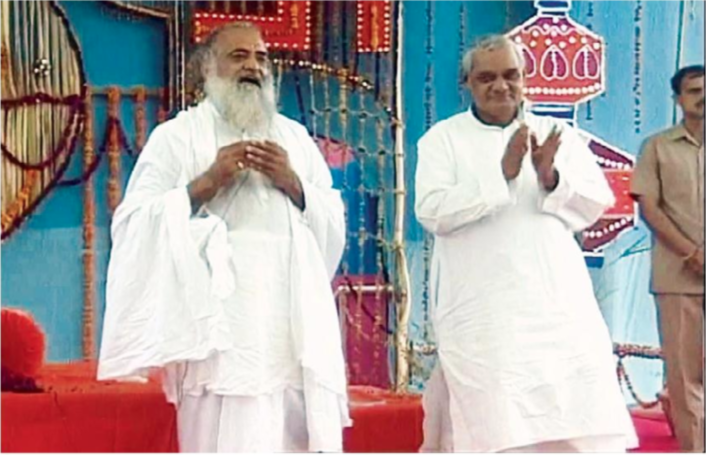 TOP BJP LEADERS, INCLUDING THEN PM ATAL BIHARI VAJPAYEE, DEPUTY PM LK ADVANI & THEN GUJARAT CHIEF MINISTER NARENDRA MODI, BOWED BEFORE ASARAM BAPU AND SAND PAENS TO HIM
The meeting, which began at 5 pm, lasted for less than 15 minutes, wherein Ram Rahim blessed them. He also asked them to meet the political wing of the Dera. Leading the "contingent" was Kailash Vijayvargiya, Madhya Pradesh Urban Development Minister and BJP's campaign in-charge for Haryana.
Couple of days later, the Dera, announced open support for the BJP. For the past 24 years, ever since its inception, the Dera had refrained from offering open support to any political party.
Till now, there had been a tacit indication in favour of one or a few political leaders, but not towards any political party. Not content with appeal to support BJP, Ram Rahim cast his vote on October 15 at Shahpur Begu Village in Sirsa. After casting vote, he even posted his photo on his Twitter account.
Six days before the 44 candidates met the controversial Dera Chief, the BJP President Amit Shah had a meeting with Ram Rahim at his Sirsa Dera. Shah reportedly sought Ram Rahim's "blessings" for both Haryana and Maharashtra.
The Dera reportedly has over 60 lakh followers in Haryana and over 25 lakh in Maharashtra. After the meeting, Shah was asked to meet the political wing of the Dera.
The meeting between Ram Rahim and Amit Shah was fixed by Shah's close aide and senior Haryana BJP leader, Captain Abhimanyu, who then was a strong contender for the Haryana Chief Minister's post.
BJP won 47 out of total 90 seats in Haryana, winning a majority on its own. It was an unprecedented performance, for it the past, BJP had just once shared power with Om Prakash Chautala's Indian National Lok Dal, 20 years ago.
The party kept tottering ever since winning just four seats in 2009 Assembly elections in which Congress won 40 and INLD 30. A major reason attributed to BJP's dramatically improved performance was Ram Rahim's support, whose followers wholeheartedly not only voted for the BJP but campaigned for it as well, besides funding the party.
Political Expediency
That explains the basis of the Baba-politician nexus. Babas have a vast army of blind followers and believers who tend to vote on their fiats. Who can forget the influence the white-robed Swami Dhirendra Brahmachari had on late Prime Minister Indira Gandhi?
Or her being blessed by Deoraha Baba with his feet? The politicians know very well that religion is the opium of the masses and if they want to intoxicate the public to vote for them, they need to woo the religious leaders. That also explains their frequent visits not only to sadhus, sants, temples but also dargahs, mazars and maulvis.
Ram Rahim would have never been caught, had he not antagonised Shiromani Akali Dal. The SAD is known to be backed by high caste (Jat) Sikhs who look down upon the lower caste (Majhabi) Sikhs. While Jat Sikhs have full their hold on the Gurudwaras, the Majhabi Sikhs have been flocking to Deras for religious solace.
Ram Rahim put fat in the fire by donning an attire which looked like Guru Gobind Singh's dress. Infuriated SAD leaders, then part of the NDA government, pressurised then Prime Minister Atal Bihari Vajpayee to order a CBI probe into an anonymous letter written by a sadhvi of Ram Rahim's dera.
The case then lingered on for almost 12 years till BJP returned to power and SAD leaders again pressurised the government for speeding up case the against Ram Rahim.
Thus, the same BJP which had lined up its 40 candidates before Baba Ram Rahim for his 'blessings' couple of days before the elections, engineered Baba's downfall.
Social Service?
A few of these fakes may not be 'political' saints, and still politicians flock to them so that they benefit from the goodwill enjoyed by the Baba among the masses.
Whether it is Sri Sri Ravi Shankar, Mata Amruthanand Mai, Mata Nirmala Devi or other such religious leaders, they all have set up big educational institutes, hi-tech hospitals besides making other facilities available for the people.
BABA RAMDEV HAS CONTACTS ACROSS THE POLITICAL SPECTRUM, HIS NEW ASHRAM WAS OPENED IN THE PRESENCE OF TOP POLITICAL LEADERS OF THE COUNTRY
It is a 'you scratch my back, I scratch yours. While the politicians' vote banks swell if seen with certain babas, the latter too showcase their VIP disciples to impress other followers.
They often act as conduit for the Ministers to pull off some convoluted tasks stuck in bureaucratic labyrinths. Most Babas don't purchase land. They simply grab it. And use political contacts to ensure no action is ever taken against them.
Then there is a section of Babas like Asaram, Ram Rahim, Ram Vriksha or Ram Pal, who indulge in all sorts of illegal activities, yet avoid the long arm of the law for a long time, sometimes even in their lifetime, due to political nexus.
Baba Ramdev has contacts across the political spectrum. The inauguration of his new ashram was attended by then President APJ Abdul Kalam, Prime Minister Atal Bihari Vajpayee and chief ministers of 11 states, among others.
People like Sri Sri Ravi Shankar and Jaggi Vasudev belong to another class of sadhus who have risen from the ranks and are now treated heads and shoulders above the common class of sadhus. Still, they have been wooing politicians to further enhance their stature.
PM Modi was a guest at Sri Sri's religio-cultural bonanza organised on the Yamuna riverbed two years ago. He was called by Jaggi Vasudev earlier this year to inaugurate a huge idol of Adinath (Shiva) in his Coimbatore ashram.
Political Entrée
Babas always used to influence politics. They had money, muscle and a large captive vote bank. But, gradually they switched their role from being an influencer to an active politician. Among the first ones was Mahant Digvijay Nath of Gorakhnath Mutt in Gorakhpur. He was known for his rabid communal diatribes.
He used to vow that he would disenfranchise Muslims for at least 10 years. He was also accused of having incited people to kill Mahatma Gandhi. He was arrested in this case, only to be let off later. Digvijay Nath shifted his allegiance to Hindu Mahasabha, contested Lok Sabha polls from Gorakhpur in 1967 on Mahasabha ticket and won.
His successor Mahant Avaidyanath too entered politics, contested Maniram Assembly seat five times – 1962, 1967, 1968 1974 and 1977. He also won 1971 Lok Sabha election from Gorakhpur as an independent candidate. Later he remained Lok Sabha member from 1989 to 1996. Avaidyanath's successor Yogi Adityanath took over as Gorakhpur MP from 1998 onwards before he became chief minister of Uttar Pradesh in April this year.
CONGRESS-LEANING SANTS
The Congress too has had a pack of its Babas the prima donna being Chandraswami who used to rub shoulders with former Prime Ministers PV Narasimha Rao and Chandra Shekhar on one side and international arms dealers Adnan Khashoggi on the other.
He had organised Som Yagna in 1993 with ostensible aim of Ram Janmabhoomi temple construction by taking hundreds of sadhus on a junket to Ayodhya.
He was sent to jail on charges of extorting $ 1 lakh from UK-based pickle king Lakhubhai Pathak by demonstrating his proximity to then PM, Rao. Though he was neither a tantrik nor astrologer, his clientele included likes of Elizabeth Taylor, King Hussain of Jordan and Sultan of Brunei. He however, died in anonymity earlier this year.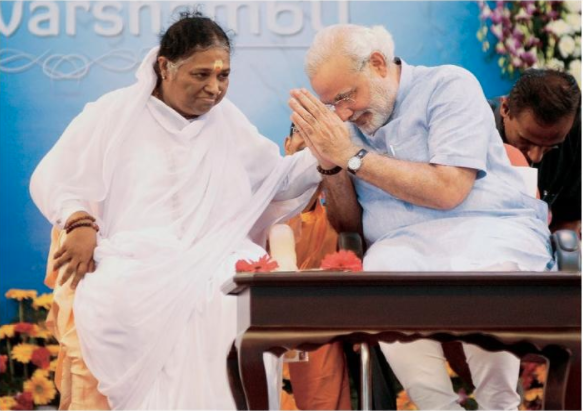 RIGHT FROM MAA AMRITANANDMAI TO SATHYA SAI BABA & BABA RAM RAHIM, THEN GUJARAT CM NARENDRA MODI HAS BEEN REGULARLY BOWING BEFORE BABAS OF ALL HUES
Among other siants having inclination towards Congress are Gyan Das, the Mahant of  Hanuman Garhi in Ayodhya and Acharya Pramod Krishnam. But, who can forget Dhirendra Brahmachari, who used to teach Yoga to Indira Gandhi and latter was instrumental in starting a yoga programme on Doordarshan.
The owner of several private helicopters and planes, Brahmachari had set up an arms factory in J&K. He was killed in a chopper crash in 1994.
Caste Politics
The Mahants of Gorakhnath mutt had been at the forefront of Ram Janmabhoomi Temple movement. Active support of BJP-RSS-VHP combine to the temple movement endeared the party to other sadhus as well. Other Babas like Ram Vilas Vedanti, Sakshi Maharaj and Chinmayananda in politics.
All of them joined the BJP between 1989 and 1996, became MPs with Swami Chinmayanand getting appointed as Minister of State for Home in the Atal Bihari Vajpayee government in 1999.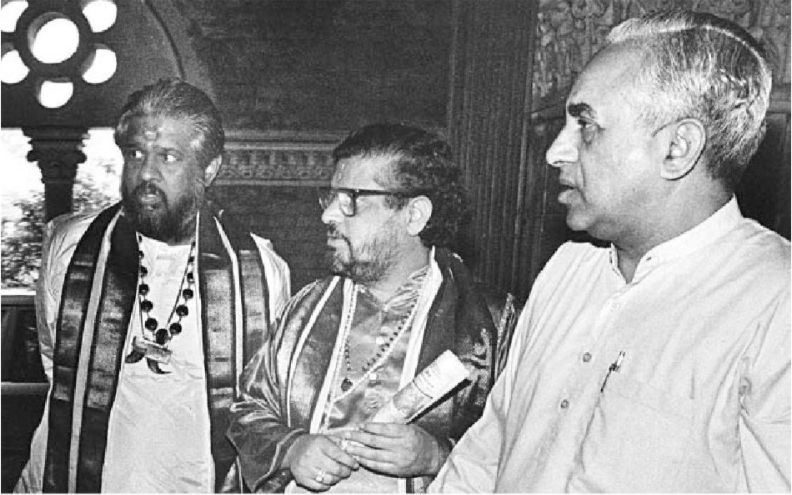 THOUGH CHANDRASWAMI WAS NEITHER A TANTRIK NOR ASTROLOGER, HIS FANS INCLUDED THE LINKS OF HOLLYWOOD ACTRESS ELIZABETH TAYLOR, KING HUSSAIN OF JORDAN AND SULTAN OF BRUNEI
The BJP not only used their saffron core during the elections but also the caste card as well. Gorakhnath peeth, for example, has been occupied by Rajputs and hold significant influence on the community. Swami Chinamayanand too is a Thakur. 
Sakshi Maharaj is a Lodh, a past of Other Backward Classes (OBC) having sizeable presence in at least 35 districts of Uttar Pradesh. Holding a PhD, the Maharaj inherited spiritualism from his father Atmanand Premi Maharaj and was known for his proximity to former Chief Minister, Kalyan Singh.
Sadhvi Uma Bharti too, like Sakshi, is a Lodh OBC and has been widely used by the BJP too backward classes both in Madhya Pradesh and Uttar Pradesh.
Baba Ramdev
Ramdev is an exception. He always had political ambitions. He worked studiously to hone his image as a crusader against corruption and a nationalist.
A Yadav from Haryana, Ramdev has been using his caste card to garner benefits from leaders like Mulayam Singh Yadav, Lalu Prasad Tejashwi Yadav, Akhilesh Yadav etc. He has been allotted lands in Yadav-ruled states to construct food parks.
Elsewhere, he has brandished his saffron attire and open support given to Narendra Modi's campaign during 2014 Lok Sabha elections, to get huge chunks of lands in BJP-ruled states like Uttarakhand, Chhattisgarh, Jharkhand, Madhya Pradesh etc at throwaway prices.
Having started out as a Yoga-teacher, Ramdev soon enlisted crores of disciples in his yoga camp. That ignited political ambitions in him. He himself launched a political party called Bharat Swabhiman Party in 2010.
That was also the time when Anna Hazare, Kiran Bedi and Arvind Kejriwal had launched a nation-wide agitation demanding an anti-corruption ombudsman   Lokpal   with powers to probe everyone including the Prime Minister of India.
Later, Ramdev started his own crusade against corruption with the prime demand  of bringing back black money stashed abroad. He announced a fast unto death at Ramlila Ground in New Delhi.
The government ordered a lathi-charge on his supporters in the midnight on the first day of his indefinite fast. Stunned by the midnight police action, the Baba made himself a universal joke when he tried to escape to his Haridwar ashram disguised in a salwar suit borrowed from a lady disciple. But a small slip let the police on and he was nabbed.
That apparently put paid to his political ambitions. It is therefore not surprising that in the recent past we have not been hearing Ramdev talk about black money or contesting elections.
Religion and politics are both volatile elements, which when mixed create a potentially lethal concoction. One can only hope that everyone has learnt lessons from the Ram Rahim episode. The sad part is that not too long ago, religious stalwarts stayed away from politics, because being genuine they needed no political protection. Now no longer!