On 2nd October 2014, Swachh Bharat Mission was launched as a nationwide movement to clean India and make it Open Defecation Free (ODF) by 2019, 150th birth anniversary of Mahatma Gandhi. It was PM Modi's pet project and he infused lots of funds for the mission. Much water has flown since, quite literally as well, but nothing substantial has been achieved till date. This will also go down in the annals of history as a monumental governance failure.
By Sandeep Pandey
A  high profile Swachh Bharat Mission (SBM) is on with the objective of providing toilets to every household in India. However, the scheme is marred by high expenditure on publicity and low achievements on ground. The government has not been able to make it corruption free either.
In the end we're likely to pollute our drinking water sources because of promotion of a faulty design. Government has finally resorted to publicity as it falls woefully short of its target of making India Open Defecation Free. Conspicuous by absence is the mention of role of sanitation workers in keeping India clean, all of whom belong to a particular Scheduled Caste.
Mahatma Gandhi has been a victim of this campaign, termed a people's movement by the Prime Minister, as it appears that he didn't have any other substantial contribution to make to the idea of India.
Narendra Modi wants Gandhi to be known only for sanitation, not for truth, non-violence, satyagraha or communal harmony. For Swachh Bharat Mission is only about physical cleanliness and not about cleansing oneself of hatred, intolerance and parochial thinking.
The Number Game
In Gram Panchayat Uttar Kondh of Block Sandila in Hardoi district of Uttar Pradesh, with a population of over six hundred families only 310 toilets have been constructed. Only 50 of these families got the stipulated Rs 12,000 in their bank accounts to get these toilets made.
The Gram Pradhan took upon himself the responsibility of getting the toilets made in around 260 households by engaging a contractor which is against the norms laid down by the government for implementation of this scheme. Out of the 310 toilets made only 160 are in usable condition, 50 can't be used because they have been constructed away from habitation and there is no water available near the toilets.
In others either the soak pits have not been constructed or there is no door, making it difficult for women to use it. Eight households had built their own toilets before it became a government programme. 300 families in this Gram Sabha (GS) remain without a toilet but still the village has been declared ODF.
In Gram Pradhan (GP) Goni of neighbouring Block Bharawan of Hardoi district, 684 toilets have been shown to be constructed. 350 of these were constructed under SBM. The remaining were supposed to be constructed as part of the Pradhan Mantri Awas Yojana for which every family gets Rs. 1,20,000 including the Rs 12,000 for the toilet.
However, in this GS not a single family which has built their houses as part of PMAY, has built its accompanying toilet. 100 families in the village have been left out of the sanitation and housing schemes. Of the 350 toilets constructed, in reality only about 200 are in use.
In GP Sua Gada of Bharawan Block there are about 600 families. 499 toilets have been made as part of SBM, of which 300 are in use but 50 are incomplete. 6 households had constructed their own toilets. In GP Lalamau Mawai of the same Block there are 300 families residing. 93 toilets have been shown to be built but actually only 50 are constructed. 200 families have been left out of SBM.
In GP Bengalput, also of Bharawan Block 283 toilets have been shown to be constructed, of which 260 have been actually made. 100 of these are in use, 160 are incomplete with either no soak pits built or with no doors. Out of approximately 400 families which reside in this GS about 100 have been left out of SBM.
In GP Rampur Atwa of the same Block out of 394 families residing here, 13 already had their own toilets and 236 got toilets made under the SBM. However, only about half of them are in use. A requisition for 182 more toilets has been made to the Block office.
The target for Bharawan Block in 2017-18 was 14,283 toilets which was achieved but for 2018-19 it was 4,743 toilets for which half the amount, Rs 6,000 per toilet, is still awaited.
Mahatma Gandhi's name has been shamefully appropriated as a publicity stunt, termed as the people's movement by the PM, as it appears that he didn't have any other substantial contribution to make to the idea of India.
In GP Maharajganj Dheri of Block Moth in Jhansi district of UP two firms, Shamni Traders and Bitiya Enterprises, have been made payments by cheque for construction of toilets from the Gram Panchayat account against the norms, instead of crediting Rs 12,000 to each beneficiary's bank account.
A complaint to this effect was made to the District Magistrate on 21 December, 2018, however, no action has been taken so far. Out of 100 toilets shown to have been built by these two firms 43 toilets are non-existent.
Bida is the President of her Gram Panchayat's Monitoring Committee of GP Kamlapuri, Block Palia in district Lakhimpur Khiri of UP. She took upon herself the responsibility of getting toilets made for villagers.
She borrowed cement, iron rods, morang and bajri worth Rs 1,80,000 and bricks worth Rs 88,000 to get 60 toilets built in her Gram Sabha. Now she is finding it difficult to get these payments made from either the Gram Panchayat or the Block Office.
A 2011 baseline survey has been used to achieve the target of Open Defecation Free. As a result even after Villages and Blocks are being declared Open Defecation Free, a number of households are left out to defecate in open.
The hurry to achieve ODF and corruption are yielding sub-standard quality of construction, a reason why people are not using the toilets even after they have been shown to be constructed. One solution fits all approach of the government with respect to SBM seems to have miserably failed.
Where's The Money, Honey?
In spite of proclaiming himself as Chowkidar, Narendra Modi's government has not been able to arrest the prevalent corruption in government schemes in the form of commissions. If anything, the rates have gone up. In SBM, the Gram Pradhans and government officials, bypassing the instruction of transferring Rs 12,000 to individual accounts of beneficiaries, have preferred to get centralised construction done in the name of efficiency and meeting the targets.
A supplier from Barabanki, Uttam Nirman Kendra, which has provided about 400 pre-fabricated ferrocement toilets to GPs in Barabanki and Faizabad disticts of UP reported that Rs. 1,000 was being taken for every toilet by Gram Pradhans when these toilets were procured.
Gram Pradhan of Rampur Atwa in Hardoi, Rajeshwari, belonging to a SC community, complained that while she had to pay a small bribe at the Block office to get people from her GS registered for receiving toilets, there were middlemen who were taking money from people for supposedly getting them included in list of beneficiaries.
The Comedy Of Errors
Irony is that government has not cared to provide toilets to some of the lowest level workers in SBM working as volunteers without any honorarium whose task is to motivate others to build toilets for themselves. They have been provided with a torch, a whistle and a cap to keep an eye on people defecating in open.
Members of Gram Panchayat level monitoring committees from district Lakhimpur Khiri, Shankaria and Hema Malini from Dhakia, Janewmati from Bhuda, Ramawati from Bisenpuri, Ishwari, Baldev, Anjali, Sushmawati, Rinki, Sharda, Sheela from Bhanpuri Khajuria, Guddi from Lalpur Dhaka, Barsati, Savitri, Sunita, Ria, Sabrunnisa from Kamlapuri, Sushila, Sarita, Sandhya of Krishnanagar Bhojhia, Jagdish from Murarkheda, Nirmala Devi from Krishnanagar all from Block Palia are some such examples of torch bearers of this scheme who don't own a toilet themselves.
A number of these members of Monitoring Committees have also filed application under the Right to Information Act, 2005, asking the Prime Minister's Office as to why they are not being given any honorarium whereas everybody above them, in the hierarchy of people implementing the SBM, is receiving a salary or working because of financial incentives. It is a strange people's movement where except for people at the very bottom, rest everybody is working as a professional, receiving financial rewards.
Pitching The Wrong Pit
As brand ambassadors of SBM Amitabh Bachchan and Akshay Kumar have been promoting twin soak or leach pit toilets whereas in areas like UP and Bihar where water table is quite high there is a danger of ground water getting polluted because of this design. Any drinking water source should be at least 50 feet away from the soak pit. There should be a gap of 6 feet between the bottom of the soak pit, which is un-plastered or earthen, and the ground water table.
Engineering Professor GD Agrawal, who was known as Swami Gyan Swaroop Sanand after he became an ascetic in 2011 and who gave up his life after fasting for 112 days last year demanding an uninterrupted flow of and clean Ganga, used to say that Ganga river basin area 'floats' over water.
Hence, toilets being promoted by the government pose a real danger to the ground water. In such areas the safer design is septic tank. But everybody who has got anything to do with SBM is parroting promotion of soak pit design. Few wise people, like 5-6 families in GS Rampur Atwa of Hardoi supplemented the Rs 12,000 received from government and have built septic tanks with their toilets.
However, there have been cases where people who built septic tank design were denied the Rs 12,000 grant as their design was not according to government approved specifications. Expert Ashok Jain says that 55% of India is unfit for the twin soak pit design.
In the end we may end up creating more mess by polluting substantial portion of ground water and then will have to invent another scheme to clean the ground water. This is a classic example of how modern development, in trying to solve one problem, creates further problems.
Desperate Times And Desperate Measures
As the next general elections approach, the government, having realized that it cannot meet the target of making usable toilets for everybody, is now engaged in massive wall painting exercise across the country to create an impression that a vibrant SBM is going on whereas one can see garbage strewn over at many places and people defecating in open still in large numbers.
The exorbitant publicity budget is a mockery of the people who still have to defecate in open, for the same money could have been used to build some more toilets. The government is holding the people guilty for defecating in open whereas the reality is that there are simply no toilets available for vast majority of people.
Gimmicky Government
Prime Minister Narendra Modi famously washed the feet of five sanitation workers on 24th February, 2019, during the Ardh Kumbh at Allahabad, now known as Prayagraj, as a mark of respect to their contribution to ensuring cleanliness during the month and a half long event.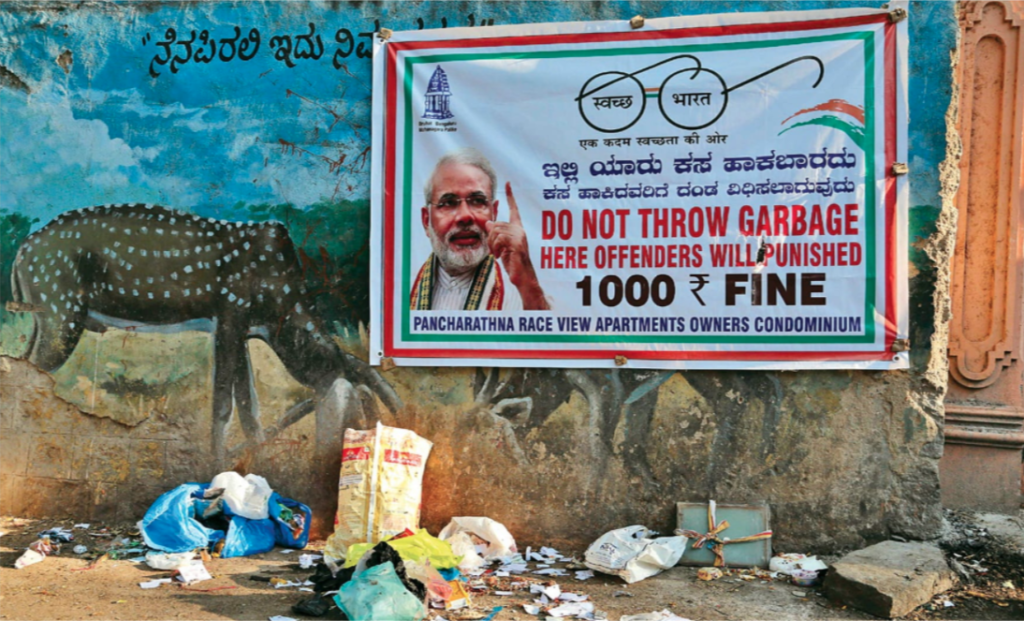 Inspite of proclaiming himself as "Chowkidar", Narendra Modi's government has not been able to arrest the prevalent corruption
However, the need to undertake this exercise arose probably because there was a protest going on of sanitation workers during the event itself demanding minimum wages and better working conditions.
A well known activist-poet from Allahabad Anshu Malviya was arrested on 8 February by Crime Branch of Police and threatened with imposition of National Security Act on him because he was at the forefront of organising the sanitation workers. After a protest by activists and sanitation workers he was finally released after midnight from a local police station.
Sanitation workers were getting Rs 295 per day as daily wages whereas they desired Rs 600, according to a minimum monthly honorarium of Rs 18,000, which is being demanded by national level trade unions.
Moreover, sanitation workers continue to die while inside sewer lines. On 10th November, 2018 Dinesh Paswan and Vikas Paswan died in an accident inside a sewer line in Chowkaghat locality of Varanasi, the parliamentary constituency of Narendra Modi, while Satyendra Paswan suffered a leg fracture.
The district administration or the government did not take responsibility and instead the contractor Pankaj Srivastava was made to pay the compensation. The case was registered at Chetganj Police Station. The SBM has failed to mention the contribution of sanitation workers, all of whom belong without fail to a Scheduled Caste community, or to do anything to improve their working and living conditions.
The act of Narendra Modi washing the feet of sanitation workers, which overwhelmed the basic demands of workers, seem to be motivated more by the forthcoming elections than any real regard for their basic rights – a respectable income, safe working conditions, education for their children, health care for their families and an insurance against accident.