In this crisis of Corona, several celebrities from entertainment and other fields came forward and helped the state as well as the central government through monetary support. But some film personalities indeed became real heroes for common people
By Geeta Singh
FOLLOWING the outcome of deadly pandemic Covid 19 in India, Modi govt tried to fight with it through the lockdown.
The country came to a standstill for three months since 25 March and when India entered the sixth day of the first phase of 21-day lockdown Prime Minister Narendra Modi exhorted celebrities to come forward and help in curbing the spread of the coronavirus.
He created a new fund relief initiative PM CARES Fund (Prime Minister's Citizen Assistance and Relief in Emergency Situations Fund) on 28 March 2020 which will be used for combat, containment and relief efforts against the coronavirus outbreak and similar pandemic like situations in the future.
Many celebrities ranging from sporting icons to Bollywood stars and singers came forward and made significant monetary contributions in the fight against the coronavirus pandemic.
Almost all the known actors and actresses of Bollywood and regional film industries donated whole heartedly to different relief funds
Monetary Support
Although, few film stars have been associated with some kind of philanthropy. But the film fraternity's response has been so brisk during this pandemic and the majority of them have lent support in their way to the PM CARES Fund.
For Bollywood flag bearer become Akshay Kumar, known for delivering three to four hits on an average every year in recent times, he donated the highest amount of 25 crores in the PM -CARES fund and Rs 3 crore to Brihanmumbai Municipal Corporation (BMC) to help fight the pandemic.
On his samaritan gesture, his wife Twinkle Khanna applauded loudly. She wrote in the column "The man makes me proud. When I asked him if he was sure as it was such a massive amount and we needed to liquidate funds, he just said, "I had nothing when I started and now that I am in this position, how can I hold back from doing whatever I can for those who have nothing?"
Maybe somehow he tried to raise the bar among his film fraternity with his donation where rich filmmakers and actors have not shied away from parsimony. Almost all the known actors and actresses of Bollywood and regional film industries — Tamil, Telugu, Bhojpuri, Punjabi donated to different relief funds. See the box for details.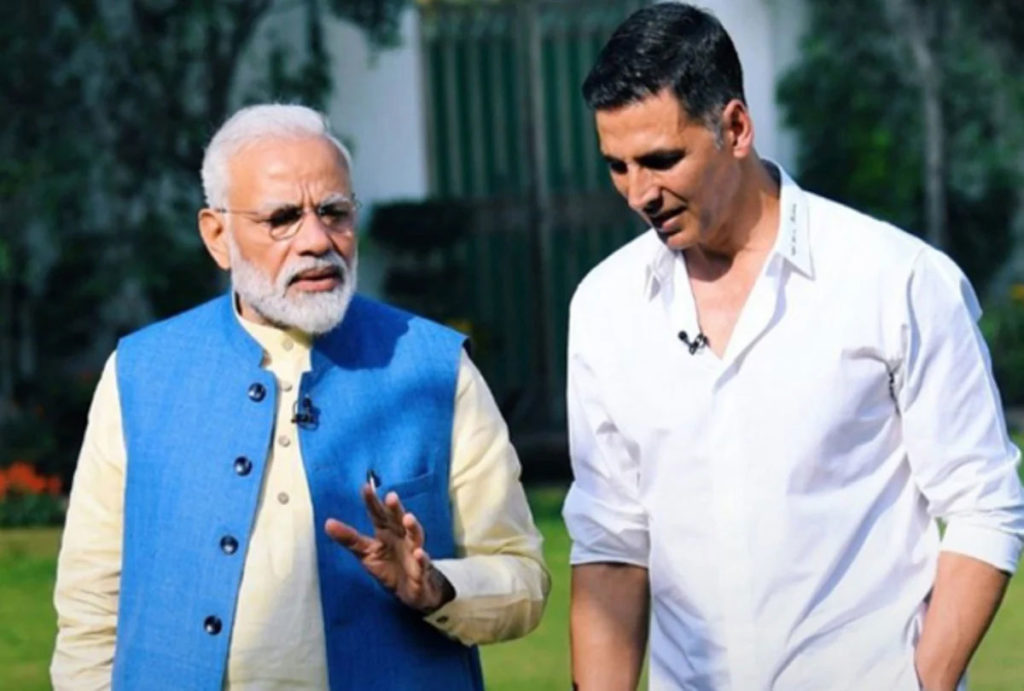 Fundraiser Concert
Besides monetary contribution to different relief funds, Bollywood stars joined hands for a mega fundraiser concert live-streamed on Facebook on 3rd May to support on-ground relief. Over Rs 3 crore was raised by the end of this four-hour digital concert 'I For India'.
Aamir Khan collaborated with Shah Rukh Khan, Hrithik Roshan and others for this concert. Amitabh Bachchan, Akshay Kumar, Ayushmann Khurrana, Priyanka Chopra, Nick Jonas, Ranveer Singh were among 85 artistes who participated in the virtual concert to raise funds for those affected by the novel coronavirus.
Aamir Khan urged people to donate for the frontline workers. He also sang classics such as "Aa Chalke Tujhe Main Leke Chalun" and "Jeena Isika Naam Hai" with his wife Kiran Rao.
All the proceeds from the fundraiser concert went to the India COVID Response Fund managed by GiveIndia. The celebrities also addressed the plight of migrant workers, daily wagers, hunger in this troubled time, child abuse and domestic violence.
They also encouraged the audience to treat stray affectionately and develop eco- friendly habits.
Ayushmann Khurrana has extended their support to Gulmeher — a non-profit organisation in Delhi. The organisation works with 200 women ragpickers
For the concert, Shahrukh Khan, Ayushmann Khurrana and Hrithik turned singers. Shah Rukh sang, "Sab sahi ho jayega", assuring people that things will be all right soon. His son AbRam too made a special appearance in his song, composed by rapper Badshah.
Hrithik played the piano and crooned "Tera jaisa yaar kahaan" song.He spent over seven hours honing his musical skills. Alia Bhatt, along with sister Shaheen and composer Ankur Tewari, sang ''Ik kudi'' from her film "Udta Punjab" while Priyanka Chopra Jonas too recited a poem on the current situation.
Madhuri Dixit Nene performed her rendition of pop star Ed Sheeran's Perfect with son Arin on the piano and Anil Kapoor urged everyone to become "Mr India" by staying at home.
Abhishek Bachchan spoke of how memes are lightening up the mood of people during the ongoing serious health crisis, while Aishwarya Rai Bachchan conducted a meaningful session where she talked to an expert on covid-19.
Amitabh Bachchan pledged to feed approx lakh of the miserable, during the lockdown. His company AB Corp Ltd has distributed 4500 cooked food packets
Support in Kind
In addition to donations in cash and concerts, film celebrities and big production houses and studios came forward to do plenty in kinds like arranging safety kits for corona warriors and food and rations for the underprivileged.
Superstar Shahrukh Khan took a big step in this initiative. SRK transformed his four-storey office into a quarantine centre for BMC. He also donated 50 thousand Personal Protection Equipments (PPE) to health workers.
Yash Chopra Foundation made monetary contributions to aid in relief measures. Aditya Chopra through Yash Chopra Foundation transferred Rs 5000 each to 3000 daily wage earners' individual bank accounts who work in the industry.
Streaming giant Netflix donated one million USD (Rupees 7.64 crore) to the relief fund set up by Producers Guild of India. The fund was donated for monetary distribution to daily wage earners of the film industry impacted by the complete shutdown.
Amitabh Bachchan pledged to feed approx lakh of the miserable, during the lockdown. His company AB Corp Ltd is helping the needy. According to a source, on behalf of Amitabh Bachchan, AB Corp team along with Haji Ali Trust and Pir Makhdoom Saheb Trust has distributed 4500 cooked food packets to the needy till lockdown 4.0. at different places in Mumbai like Haji Ali Dargah, Antop Hill, Dharavi, Juhu etc.
Apart from this, with the help of many local authorities, Amitabh Bachchan's team has also distributed a large number of masks and sanitizers along with 20,000 PPE kits.
Actor Hrithik Roshan has extended his hand in the coronavirus battle by donating masks to BMC workers so that they can protect themselves from the virus. He has also helped to facilitate 1.2 lakh nutritious cooked meals for the needy in collaboration with the NGO Akshaya Patra.
Jacqueline Fernandez has extended her support to provide food supplies to 2,500 families in Mumbai. Rohit Shetty and Ajay Devgn both have contributed 51 Lakh to Federation of Western India Cine Employees (FWICE) to support the daily wage workers.
While Salman Khan has donated 15 crore to financially support 25,000 daily wage workers from the film industry. Approximately 40000 daily wagers received money from superstars and production studios in their accounts through FWICE.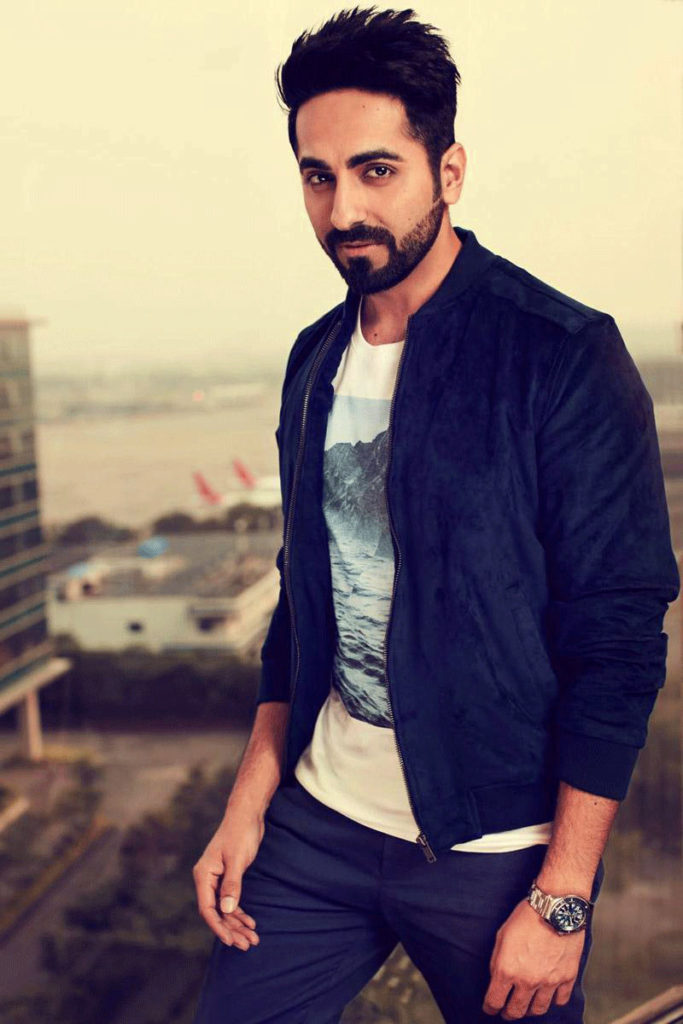 Ayushmann Khurrana, along with his wife Tahira, has extended their support to Gulmeher — a non-profit organisation in Delhi. The organisation works with 200 women ragpickers and the actor's contribution will help them look after themselves and their families.
Superstar turned Superman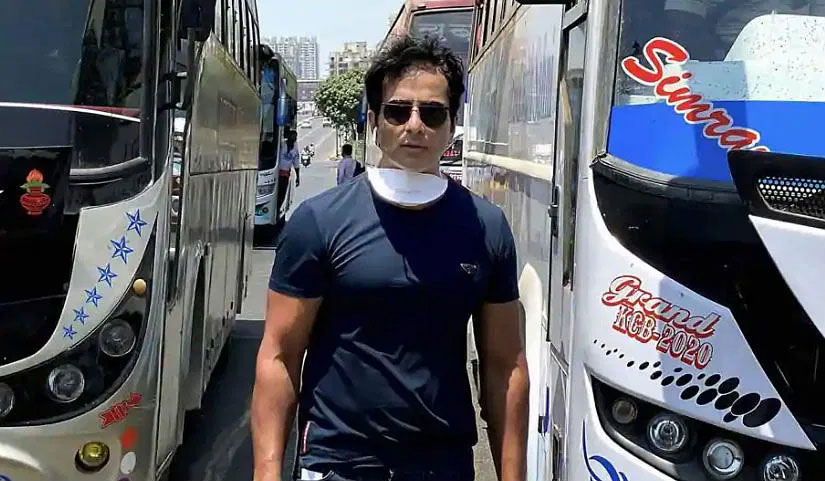 "Sonu Sood sir Please Help. East UP me kahin bhi bhej do sir. Wahan se paidal apne ghar chale jayenge." (Sonu Sood Sir Please Help. Sir send us anywhere in Eastern UP. From there, we will go by walking to our villages.)
"Padal Kyun Jaoge Dost? Number bhejo. Parso, mera bhai apni ma ki goud me soyega. Samaan pack kar"( Why would you go by walking? Send me your number and pack your luggage. You will be with your mom the day after tomorrow.)
These lines are not from any dialogue of a Hindi film but a real-time conversation between a Bollywood hero and a man in the street on Twitter.
Due to the unplanned, unprepared lockdown by the Modi government across the country, everything got stalled and millions of daily wagers and migrant workers' lives were in tatters.
They were trapped in various cities thousands of miles away from their native places. For them, actor Sonu Sood became a superhero.
Sonu Sood airlifted 177 girls who have been stuck in Ernakulam, Kerala amid the lockdown. He also arranged several buses to send 15000 labourers to their homes
The 46-year-old star has been at the forefront helping the migrant labourers trapped in different places of Maharashtra amid the coronavirus outbreak as nationwide lockdown left them jobless.
From arranging buses to help these poor migrants, to launching a toll free helpline number where they can reach out to his team, which has been working tirelessly to help them reach their homes. Sonu Sood has won massive respect from people.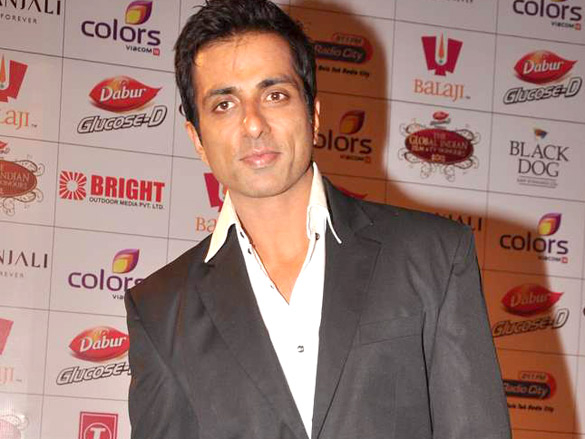 Before lockdown Sonu Sood was in Hyderabad for the shooting of Telugu film Acharya. Lending a hand to help poors started with visuals of miserables walking on foot thousand miles to reach their home. "I saw those visuals of people walking home.
I met a family with an elderly lady and a little girl. When I asked them where they were going, they said Karnataka. I told them to hold on for two days, I would see what I could do.
And thus began the chain to set the whole process in motion" said the actor to a website in an interview. Earlier Sonu tried to send migrants home by train. But due to social distancing norms, buses can take only 25 people while a train can carry many more.
And Getting permission from two states too was a nightmare. Then in a hero-like gesture, the Bollywood actor started arranging private buses to send migrants. In the first lot he sent 350 migrants.
Till the end of May, he has sent approximately 15000 labourers to their homes. He is helping wretched migrants belonging to different states. People are calling him the 'man with golden heart' or 'Hero of Lockdown'.
Besides this, Sonu has also donated 1,500 PPE kits to doctors and health workers in Punjab. Sonu was also sending a truckload of food daily to feed the homeless underprivileged. He also transformed his hotel Shakti Sagarin Juhu into a home of paramedical forces during Corona time.
He has been feeding 45000 daily wagers and poor people daily since the lockdown started. He has also airlifted 177 girls who have been stuck in Ernakulam, Kerala amid the lockdown.
These girls were employed at a local textile factory where they were to embroider and stitch but as the factory closed down, they found themselves without a roof above their head and no job to sustain them of their basic needs.
With all the philanthropic work Sonu Sood became the first Indian celebrity who helped migrant labourers to reach their homes.