How To Become The Best
She reigns the world as the six-time world women's boxing champion and has shown what Indians can do, but insists on introducing major changes. An exclusive to Parliamentarian by MC MARY KOM
LET me begin from the scenario in Manipur where I hail from.  The border state has been named as the "Power House of Sports for India" for having produced and contributed the maximum number of sportspersons for the country.
I have been observing the overall performances of our country in sports and there have been many improvements but changes are very much needed
In contrast, it is rather strange that the sports infrastructure in the state leaves much to be desired and inadequate compared to the rest of the states and cities. 
It has been sheer hard work and passion that have driven many of us to achieve success and reach this far in sports. 
In Northeast India, perhaps because of its social and economic challenges and unemployment issues, more and more youngsters are adopting sports as their careers. The encouraging results are not surprising because many of them are indeed extremely talented. 
This has impacted society very positively, resulting in a transformation of sorts that has brought laurels to the country.   But of course, the country has immense scope to do better.  
I have been observing the overall performances of our country in sports and though there have been many developments and improvements in the systems and performance, in some disciplines we are traversing the other direction of going down the ladder. 
Perhaps the world is going at a faster pace than us in every aspect and we are maintaining the same speed. But this has led to a gradual downfall in our achievement and performance in sports.  
ALARM BELLS
We need to be alarmed, understand and rectify before we are left behind by every country.  We cannot ignore the talents and potential available among the millions of our population.
I have always respected and quoted the human resources in our country which is nowhere less from the rest of the world, but somewhere we have failed to nurture and guide those talents efficiently. 
The government can promote sports and take it to the next level. I believe that with perfect implementation of all policies and plans in sports, we will be able to change the fate of Indian sports in the world.
What the world demands today is the MORE and the BEST in every field. Competitions are tough everywhere today, be it in sports or academic or at the job avenues.
We need to prove that we are the best and that's the only option. This is where the need arises for us to wake up and take a leap from the existing system. 
Being a sportsperson, my knowledge is limited to my discipline and I might not be able to give an insight that could make Indian sports traverse a better way and reach a higher level.  
But I would like to share a few thoughts and conclusions based on my journey so far.
SPORTS EXPERTS & COACHES 
We are more dependent on our experiences than the new research and techniques being put into trial. Is it not possible to accord a higher status to our coaches and experts in sports and expose them to avenues of learning and updating their skills and knowledge? 
This can help us in churning the whole learning into a refined and appropriate training methods or manual.
Periodical Refresher Course: Coaches and trainers should be given orientation programmes, training of trainers' course and exposure to different sports academies and centres in the country and abroad for cross-learning and be updated both technically and practically.
SCIENTIFIC METHODS
We should not ignore our traditional and experience-based training methods but it is high time to also adopt scientific methods as well, which must go along with SPORTS SCIENCE and MEDICINE, which in turn will enable us to track our strength, deficiency and deal it with proper interventions.
We should not ignore our traditional and experience based training methods but it is high time to also adopt scientific methods as well
MENTAL HEALTH
We also need psychologists and counselors to assist athletes at all time as we all go through the roller-coaster ride, which will have a profound impact on their performances.
We need to be mentally strong to win an opponent under any circumstance. Being confident is as half won.
SPOTTING THE TALENT
If we go back to decades from now, we identified talented sportspersons only when they have reached the national level but they could be either someone who is young or at the end of his / her career.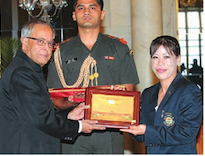 We wait for someone to prove himself / herself really good in their specific discipline. I wish we could identify talents at a younger age (even below 10 years), though Khelo India has already started.
Then, we need to design the training plan depending upon their age group and capabilities.
NUTRITION & SUPPLEMENT: 
Proper guidance for sportspersons concerning intake of nutrition and supplements at different age groups is very necessary for the player to grow in their field.
AWARENESS ON ANTI-DOPING:
Out of ignorance, many sportspersons fall prey to doping. A proper awareness should be imparted on anti-doping with clear specifications of the medicines and compositions they need to avoid.
ATHLETES' SUPPORT 
In a state like Manipur, it is difficult to find senior sportspersons and are not given any attention as well. In fact they have no place for training or any facilities that could be of benefit.

As most of them hail from poor family background, their priority is diverted to finding a secured job for supporting their family.
This way, we have lost quiet a many of them who could have brought us medals at the international levels. Only a handful of them were fortunate enough to train well even after finding a job.
We need to monitor and keep a close vigil to identify these talented men and women wherever they are. Equally important is to ensure that they continue rendering service and sharing their expertise and experiences.   
FREE AND FAIR GAMES
A minor mistake made by juries and officials can topple all chances of winning medals and even spoil the career of medal prospects of the country.
We should always be alert and careful at all stages of trial selections and competitions. We should not limit ourselves and confine judgments to a district, state, region or caste but expand to cover the entire country at every level. 
INVOLVEMENT OF CORPORATES 
We should not deny the contribution made to sports by the corporate sector of our country. They have done an excellent job and we should encourage them to do better and we should not be entirely dependent upon the Government.
As most of them hail from poor family backgrounds, their priority is diverted to finding a secured job for supporting their families
My only wish and dream is to take our country to the next level in sports. It will call for a lot of hard labour and efforts but again, WE ARE NO LESS than anybody. 
We have the potential. Let us support our sportspersons, let us dream and let us win together.  
(As told to Rajeev Bhattacharyya)