The rise in the wide popularity of social media has also given way to many new opportunities for content creators who can also now proudly claim content creation as their full-fledged careers. Elements like YouTube and Podcasts have been those unnoticed blocks of building the 'New India' that have enabled many to earn. Let us take a dive into the rise of YouTube and Podcasts and why we may be witnessing this
By Barish Raman
Over the last decade, we have seen a massive rise in engagement on social media. Now that doesn't just refer to spending hours consuming the most abstract and random content on Instagram and Facebook, but also of people creating content. Whether that is through Vlogging, Reviewing content or products, humoristic commentary channels, or Podcasts ranging through every genre. YouTube and Podcasts are now an irradicable part of the 'New India'.
Podcast Popularity
It is an indubitable truth that has been sung over again and again over the last 10 years that social media has become an inseparable part of our life. The innate need of humans to innovate has also led to careers that maybe no one back 30 years had even heard of. However, we can see now that social media, namely, YouTube, Instagram, and Spotify have given rise to many names becoming household names, but in a sense that the name is confined to the teenager's room in most cases. Although, it should be noted that it is not important that the demographic that these content creators target is mostly Gen Z or Millenials but people even older than that.
We should not be surprised by the boom in the content-creating industry since India is one of the biggest consumer markets for the Internet. According to Sandhya Keelery, a statistics analyst at Statista, with the ease of internet access, the number of social media users in India stood at 518 million in 2020. In fact, this number has been predicted to skyrocket to 1.5 billion by 2040. India has also become the world's largest Podcast listening market as per the report by PwC. It is estimated that the number of listeners will rise to 170.6 million by 2023 and India's music, radio, and podcast market will double itself by 2023.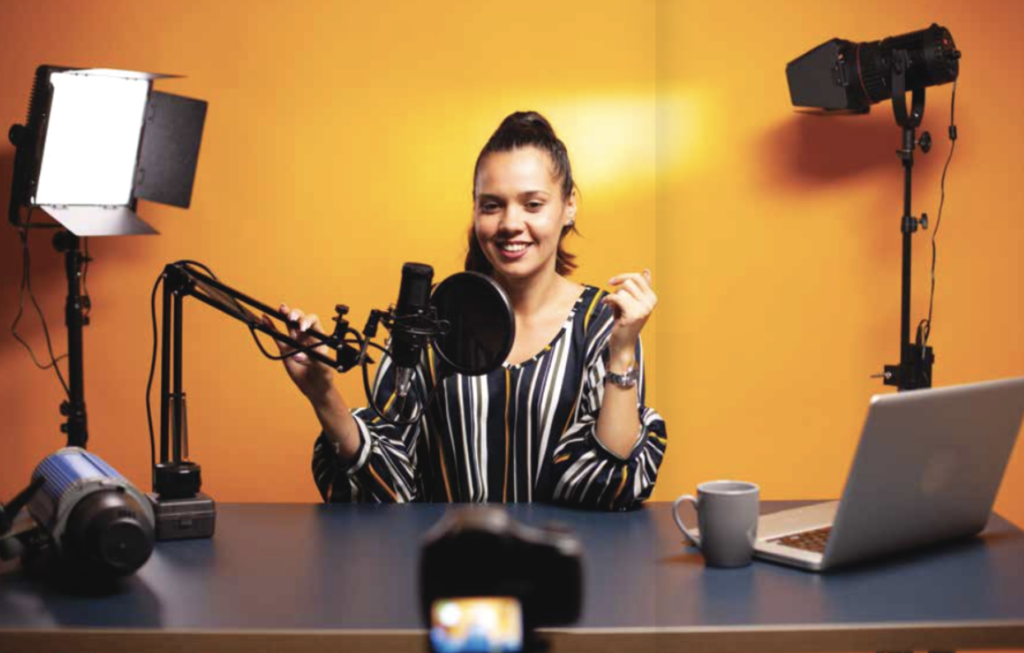 Why is India now back to its Radio roots?
Howbeit, it is surprising that something like podcasts has gained such a high popularity in a time when our attention span is decreasing vehemently. Brands and YouTubers are constantly aiming to make their content more visual, concise, and gripping due to the cutthroat competition that is maintaining engagement and view counts for viewers that have, if not millions but even billions of posts available as other options. Nonetheless, we can witness a rise in listeners of long, detailed, and immersive podcasts. So, why are these long monologues from people on the internet so appealing to the modern masses? This can be pinned down to several reasons. For many, listening to audio may be more intimate and they may connect with the material better as the podcaster is connecting with listeners on a tête-à-tête basis. It is easier for many to engage with one of their senses rather than two and multitask better. In addition, for many older listeners, it is more natural to engage with audio as it may even be reminiscent of the good old radio days. The wide range of genres ranging from romance, horror, mystery, science, mythology, self-help offers something of interest to, if not all, many demographics. 
Even from the perspective of a content creator, the logistical advantages are aplenty. You can save money on cameras, lights, nuanced editing, and graphics by only investing in a good microphone
In an interview with TNM, Padma Priya, the editor-in-chief and co-founder of Suno India, a multilingual Podcast platform that reports journalistic stories via audio shows, sheds light upon as to why they did not have any doubts about choosing audio over other mediums with Suno India, which was started in 2018. "We felt like audio was a more intimate space. The kind of topics we wanted to cover were sensitive, and would require some amount of anonymity. The video space seemed saturated. Besides, even at present, there are very few players in the audio journalism space or the reported narrative that Suno India specialises in. Financially speaking, audio shows could be considered a low-entry medium and it also enables us to work with different people remotely."
The addition of numerous Podcasts in regional vernacular languages has further propagated the popularity of the entertainment medium to deeper parts of our linguistical burning pot of diversity. Tamil and Kannada Podcasts are immensely popular and have garnered a consistent listenership. The flexibility of being able to listen to podcasts anywhere also allows listeners to engage whenever and wherever. This has also enabled many to empower their knowledge and learn new skills. A survey by Statista in 2019, in the US, says that three out of four consumers listen to podcasts to learn new things. Undoubtedly, people see podcasts as a tool to learn new skills and things.
Ranveer Allahabadia
First joined YouTube in 2014 with his fitness-based channel 'BeerBiceps'. Later expanding into a channel with podcasts and vlogs, often featuring many Bollywood celebrities. He now has more than 3 million subscribers and more than 230,600,000 views on his vlogs and his Podcast-The Ranveer Show which is now exclusively available on Spotify in both Hindi and English. The podcasts focus on interviewing different subject experts on topics ranging from spirituality, motivation, lifestyle,  experiences of different adventurers and much more.
Dhruv Rathee
An Indian YouTuber, who makes videos which cover a wide range of topics such as environment, personal finance, economics, society, history, and contemporary politics in an informative and analytical manner.  He has been quite popular for trying to shed light upon the government's activities in an analytical and objective way that often doesn't sit well with many supporters. He has more than 7 million subscribers on YouTube after originally joining in 2013, and has now also expanded into the Podcast business with his Spotify Original, Maha Bharat with Dhruv Rathee in 2020. The Podcast aims to delve deep into how things in India actually work, from the executive, legislation to the
judiciary. 
Lockdown Creativity
The disarray of quarantines and lockdowns in the negativity of the worldwide pandemic of COVID-19 also ended up bringing a positive impact to the content creation industry as people resorted to the internet for entertainment as well. The pandemic that ended up restricting the normal lives of people to a certain degree, offered them more free time to engage in content. 
Even from the perspective of a content creator, the logistical advantages are aplenty. You can save money on cameras, lights, nuanced editing, and graphics by only investing in a good microphone. This ends up becoming an opportunity that content creators do not want to pass up on, which is why many YouTubers have also started dabbling in the Podcast game. Famous Indian internet personalities like Ranveer Allahabdia and Dhruv Rathee are the most popular examples of this.
Podcasts' inclusivity allows anyone to be a podcaster if they want to which has led to many personalities who may not necessarily be directly linked to social media have also established themselves as successful podcasters, topping the charts on several occasions as well, for instance, popular mythologist Devdutt Patnaik has one of the highest charting podcasts on Spotify. Numerous celebrities like Kareena Kapoor, Kalki Koechlin and Karan Johar have also dipped their toes in the podcast pool. 
The Good old-fashioned YouTube game
When Jawed Karim, one of the three co-founders of YouTube, posted the first-ever video on YouTube titled 'Me at the zoo ' on April 23, 2005, it started a revolutionary chain of events that resulted in the Youtuber business becoming a cash cow for hundreds of thousands. As of 2022, there are more than 51 million YouTube channels out there. The number of channels is growing strong: last year it grew by 36%. People all around the world are creating a YouTube channel, and uploading 500 hours of video every minute. Out of all of these, almost 30,000 channels have more than 1 million subscribers. YouTube became one of the only platforms for India that can reach almost 80% of the population.
The most essential part of this boom in internet users was the fact that now a major chunk of rural India was also included now. This not only meant that now creators can target rural India specifically but also the fact that Rural India could target content creation
So, what is fueling YouTube's growth in India? It is nothing but content creation. India has over 1,200 channels with one million subscribers. With two creators on an average crossing of one-million subscribers and 2,500 creators are touching their first 1,000 subscriber milestone every day. This, in comparison to 2016's statistic of just 16 channels in India crossing one million subscribers, shows how over time content creation has also put in its hands in moulding the New India. An India which doesn't necessarily need to depend on 9-5 jobs or even a postgraduate degree to earn independently, nor does this India need the ever so important support of any phoney producer from Mumbai to create their own content.
Bhuvan Bam
Also known as 'BB Ki Vines' became the first-ever Indian YouTuber to hit 10 million subscribers. He is one of the most popular YouTubers of the country with more than 25 million subscribers and 4 billion views on his Hindi comedy skit videos. Youtube has enabled several people to fully establish themselves as internet figures and pursue this as a full-time career.
Ajey Nagar 'Carey Minati'
Also known by his YouTube channel name, 'CarryMinati' creates comedic 'roast' videos and gameplays with commentary. Often regarded as one of the first YouTubers to start the trend of roasting in India, he started making videos as a part-time hobby in school that led to him taking it up full time by the time his 12th standard came. In 2019, Ajey Nagar was listed at the 10th position in the Next Generation Leaders' 2019 by Time magazine, which is an annual list of ten young people who construct innovative careers. In April 2020, he was part of Forbes 30 Under 30 Asia. He currently has more than 35 million subscribers and 3 billion views.
Data Dash
If we were to pinpoint a catalyst to this major wave, then, it would certainly be Reliance Jio. Mukesh Ambani's game changer of providing internet at such competitive and inexpensive costs that it expelled India into becoming the country with the second highest number of internet users behind China. After Jio's entry, internet data usage increased dramatically as access cost decreased. Content creators benefited exponentially from this trend as they now had a broader customer base that they could target.
The most essential part of this boom in internet users was the fact that now a major chunk of rural India was also included now. This not only meant that now creators can target rural India specifically but also the fact that Rural India could target content creation. We can observe a high jump in the number of creators who are focused on showing content of the lifestyle of Indian villages from channels focused on cooking to many creating vlogs to showcase daily life. 
Algorithm Mystery
However, more people engaging in the content creation game means more competition which means lesser chances of being monetized. Previously, a channel on YouTube needed 10,000-lifetime views to be eligible for monetization. Later, in 2018 YouTube introduced new rules that require both new and existing channels to have 1,000 subscribers and 4,000 hours of watch time within the past 12 months. Even if channels pass that hurdle, sometimes the algorithm that is mostly a mystery to many would not always play out in your favour by not recommending your videos to new audience.
The rates per view vary based on the niche of the channel, engagement rate and other factors. The YouTube guidelines have also strengthened their rules on appropriate and inappropriate content, often demonetising videos for even mentioning certain words despite of context. This has ended up affecting channels mostly in the genre of news reporting and commentators. Content creators earn not only from their monetised views but also sponsorships that they feature in their videos since relying on just monetisation from YouTube is not a sustainable strategy for many. Often, the benefit might not always be financial but the popularity and numbers enable creators to catch onto other opportunities as they end up creating a loyal fanbase and opportunities to get discovered by sponsors or companies that may want to collaborate with them. 
---