The government simply rubbished a global report on deaths in India due to air pollution, stating, amazingly, simply because it is not an Indian report
By Mahendra Pandey
THE alarmingly swift degradation of the environment has for long been a pressing concern for filmmakers, especially those that work in the non-fiction space.
A little over a decade ago, environmentalist and former US vice president Al Gore featured prominently in documentarian Davis Guggenheim's An Inconvenient Truth.
The film, widely regarded as a turning point for the medium's growing and necessary engagement with environmental activism, follows Gore on the lecture circuit as he campaigns to raise public awareness of the dangers of global warming. The film put climate change firmly on the global agenda.
Usually, during Lok Sabha or important assembly elections, much non-political news remain unnoticed or get insignificant space in newspapers and especially, the screaming news TV channels.
However, February 2017 has seen a move away from that media 'normalcy'. Amidst the high drama of Uttar Pradesh Assembly elections, a report on deaths from air pollution globally got more than usual news space.
Since the report said that almost 1.1 million people died in India prematurely in 2015 due to air pollution, it was known to all that the Ministry of Environment, Forest and Climate Change (MoEF & CC) and the Central Pollution Control Board (CPCB) would immediately reject the findings.
Guilt is best obfuscated by denial, and denial has many forms! Provable scientific facts are dispensable commodities in the political arena.
XENOPHOBIC DENIAL
Usually, any scientific report is rejected on scientific facts, but this report was rejected because its origin was not Indian, and also due to lack of data on air pollution with which the concerned authorities from within India – MoEFF & CC, CPCB, et al – could scientifically challenge the findings from abroad.
In fact, we have no detailed data either to make a statement or deny one!
Air pollution is a complex mixture of gases and particles whose sources and composition vary over space and time.
While hundreds of different chemical compounds can be measured in the air, governments typically measure only a small subset of gases and particles as indicators of the different types of air pollution and major sources contributing to that pollution.
PM2.5 and ozone are the two indicators used to quantify exposure to air pollution in the Global Burden of Diseases (GBD) project. PM2.5 is the most consistent and robust predictor of mortality in studies of long-term exposure to air pollution.
PM2.5 is lately a newsmaker of sorts in areas around the National Capital Region and means Particulate Matter of the size of 2.5 microns. A human hair usually measures 100 microns.
So a PM2.5 would be 40 times smaller than a hair, which we inhale and it settles all over our lungs. These are particles that even invade breast milk of suckling mothers.
Hence, Justice Swatanter Kumar's National Green Tribunal is trying to fend off a tiny but deadly killer when it prescribes multiple layers of protection against vehicular pollution, the chief source of PM2.5.
CRAZY OZONE
Ozone, on the other hand, is quite an interesting character. At levels of six to 30 kilometres above us, on the earth, it forms the critical protective layer that cuts out harmful radiation – especially ultra-violet rays from the sun.
If it were to go away totally and a lot of it has gone already, creating the 'ozone hole', we would simply die of, say sunburn, if not in a cancer pandemic. Yet, this benevolent protector can be dangerous in equal measure if it is closer to the earth's surface, where humans can inhale it.
Ozone is formed when pollutants emitted by cars, power plants, industrial boilers, refineries, chemical plants, and other sources react chemically in the presence of sunlight. Ozone is associated with respiratory disease independent of exposure to PM2.5.
SWACHH BHARAT? 
In the overarching promo tional 'success story' of Swachh Bharat, which is solely an inexpensive populist slogan only about sanitation and not about killer dirty air, how can the government accept that as many as 10,90,400 Indians died in 2015 due to air pollution?
This is evident also from the fact that the government has not moved its little finger to do something about fuel guzzling SUVs and other diesel-run luxury vehicles.
Despite the NGT, mind you! State of Global Air: 2017 – A Special Report On Global Exposure To Air Pollution And Its Disease Burden – has been prepared jointly by the Health Effect Institute and Institute for Health Metrics and Evaluation's Global Burden of Disease Project at the University of Washington.
The report says that worldwide, high levels of PM2.5 killed 42,41,100 people in 2015, and spells out the Indian loss mentioned above. Which is about one-fourth of the total numbers killed… abysmally high!
Similarly, 2,54,000 people died due to high levels of ozone in the air, and the share of our country was 1,07,800, or about half. In all, 44,95,100 people died in 2015 due to air pollution in the world, which includes 11,98,200 Indians.
It is important to note that the frightening figure of deaths as per the report could be an underplay, and the actual number of deaths may be much higher.
The report is only on outdoor pollution and there are several other reports which say that indoor pollution is a major problem in many countries, including in India.
In addition, the report is based on only two parameters, PM2.5 and Ozone, so it is obvious that deaths from other pollutants have not been mentioned in the report. Another point of significance is that only WHO data have been used to prepare the report.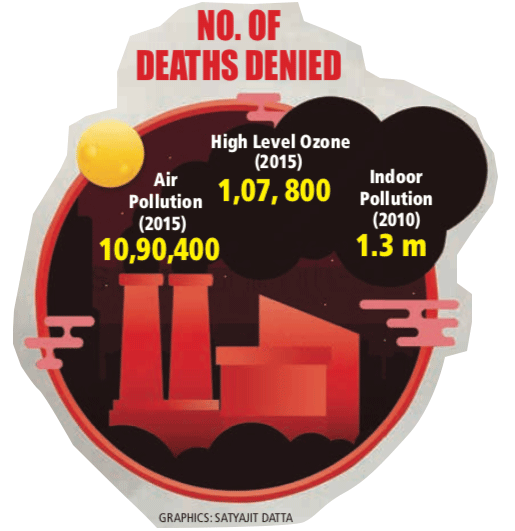 Prime Minister Narendra Modi, during his Swachh Bharat campaign always uses WHO data on sanitation, but his minister for science and technology, Dr Harshvardhan opines that WHO data should not be taken seriously.
Whatever comes handy! A senior scientist from CPCB reacted to the WHO report: "Of the 124 Indian cities whose pollution figures are available in WHO database, only 8 had a direct PM2.5 database."
While the CPCB official tried to fault the WHO report on statistical grounds about faulty extrapolations, he had not realised that the whole world would know that only scant and fragmented data on PM2.5 are available in the India.
So who is correct… CPCB or WHO? PM2.5 has been included in ambient air quality standards, laid by CPCB itself, in the year 2009 and CPCB claims to have a network of ambient air monitoring systems all over India.
It is really a shame that a country profile of PM2.5 has not been prepared yet and all the cities do not have facilities for its measurement.
OZONE DEATHS?
Neither the MoEF & CC nor CPCB have uttered a word on ozone deaths probably because its measurement is much more restricted, confined only to selected locations at a few metro cities. Ozone was also included in the ambient air quality standards in 2009.
It is important to note that ozone level exceeded the limit several times in 2015 and 2016 in Delhi. During September to November 2015, it went up to 500 micrograms per cubic metre, as against the standard of 100 micrograms for 8 hours and 180 micrograms per cubic metre for 1 hour.
Again, ozone concentration made headlines during the second Odd-Even phase of April 2016. Delhi is the only city where ozone measurement is done on regular basis.
On the other hand, the Environment Minister Anil Dave showed his 'patriotic' fervour while commenting on the report.
He said that a proud country should trust its own scientific organisations and should not follow international studies. He trusts the country's organisations as much as he has faith in the Indian Army.
His memory is probably too short, for only last year his predecessor, Prakash Javadekar rejected a report prepared by scientists at Indian Institute of Tropical Meteorology,
Pune which concluded that air pollution in Delhi has deducted six years from the average life of Delhiites. For Modi, Harshvardhan, Javadekar or Dave, political expediency in creating their own market ranks much higher above the health of the country.
Reject global scientific data. Do not generate Indian data. So if people have died, they have, but do not blame our air quality for it, for our data from 8 out of 124 cities does not prove that!
In 2015, a study by scientists of IIT Roorkee was rejected by CPCB, which concluded that approximately 22,000 people annually die of air pollution in Delhi.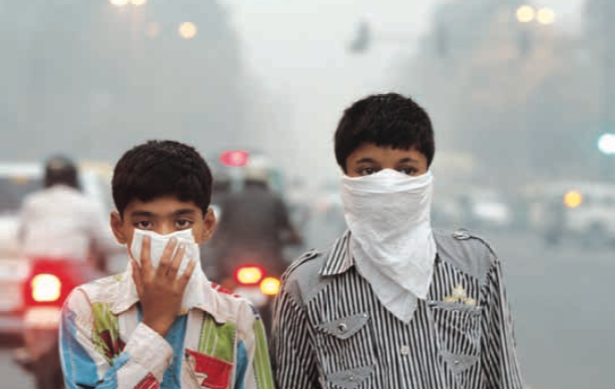 Dave also commented that tackling air pollution is no rocket science. Probably he forgot that during last the three years, rocket science in India has made several world records in a positive way while air pollution created several records in many negative ways.
Those who track the activities of MoEF & CC and CPCB would be well aware that these organisations take several weeks in formulating any action plan on pollution control, but rejecting any report or thrashing the data by international agencies takes hardly a day.
The ultimate rejection of the WHO report is evident from the statement by a senior scientist of CPCB: "International studies linking air quality in India to disease and death are flawed because the ethologic, personal immunity and demography of India are incomparable with international practices."
So where are the research data from Indian labs about the robust ethology and personal immunity and demography of India? Who cares!
HOME DEATHS
Although there is no policy on indoor air pollution in the country, it has been estimated that over a million people in India die every year because of indoor air pollution, among highest in the world.
Indoor air pollution is a bigger killer than outdoor air pollution in India, with the recent global burden of diseases report listing the former as the second biggest killer and latter as fifth largest.
Around 1.3 million people died of indoor air pollution in 2010. Indoor air pollution is the second biggest killer after high blood pressure in India, the report said.
Unlike many western countries, India does not have any norm for indoor air pollution, which mandates emission norms for home appliances such as refrigerators, air-conditioners and bread toasters and a limit beyond which dirty air inside homes can be bad for one's health.
The WHO has prescribed 20 micro grammes per cubic meter (ug/m3) of air for particulate matter as a norm for indoor air pollution. In India, the average indoor air pollution is 375 ug/m3, and the prime contributor for this is burning of solid fuels, says a study was done by the Indian Council for Medical Research.
There is no dearth of Indian studies on the adverse impact of indoor air pollution on health, especially those of women. The Energy and Resources Institute (TERI) in a recent study said that 27.5 per cent of under-five infant mortality in India is because of indoor air pollution.
Another study said that about 80 per cent of women in India are affected by indoor air pollution.
The rise in air pollution has a direct co-relation with death. The ICMR study in Chennai on around 1,200 people showed an increase of 0.3 per cent to 0.6 per cent in mortality with the rise in particulate matter pollution by 10 ug/m3.
When half of Indian homes still use smoke-filled chulhas, imagining its adverse health impact is no rocket science. The objective of CPCB and MoEF & CC is very clear: never generate adequate data on pollution and never generate any report on the ill effects of pollution.

In this way, rejecting any report is easy, because nothing of our own is there to compare the data with. It is the way through which politics of pollution is controlled in the country.